Regions Bank Expands Person-To-Person Payment Services
Regions Bank is continuing to add new person-to-person payment capabilities to its roster of banking services through a new feature that will make it easier for banking customers to send and receive money from anyone with a valid U.S. checking account.
Just weeks after adding Western Union services at its banking branches, Regions Bank (NYSE:RF) is now offering a new service called Regions Personal Pay, which is automatically available for banking customers enrolled in the bank's online banking services.
The new service is part of the ZashPay, a person-to-person payment network powered by Fiserv Inc. (NASDAQ: FISV), which provides e-commerce systems and information management services for the financial services industry. To date, ZashPay's network includes more than 700 financial institutions, 500 banks and more than one million person-to-person payment registrants.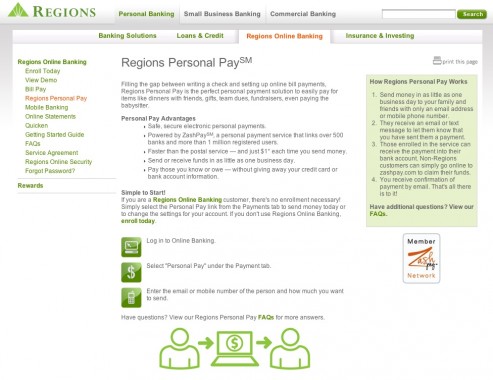 With Personal Pay, all that's needed to send a payment is either the recipient's email address or mobile phone number. Once a payment is sent, the recipient then receives either an email or text message informing them that a payment has been sent, while the sender receives a similar message via email. While the service is free for those receiving money, those sending funds will have to pay a $1 fee.
Person-to-person payments made either between Regions Banking customers or those enrolled in the ZashPay network can clear in as little as one business day. For those not in the network, or sending or receiving money from individuals with bank accounts not in the network, the waiting period is extended to up to three days after an individual enrolls and claims funds.
Regions' new Personal Pay service is now the second person-to-person payment service the bank has introduced to customers in less than a month. In late June, the bank began offering Western Union money transfer services at all of its 1,700 U.S. branches.
Read: Regions Bank to Offer Western Union Services
For more information about Regions Banking services, including customer ratings, check out the bank's profile page.
Ask a Question