U.S. Bank ReliaCard Prepaid Card Accounts Get Mobile Apps
Prepaid cards are getting increasingly more exposure as banks, such as U.S. Bank, offer mobile access, typically available to customers in mainstreaming banking.
U.S. Bank (NYSE: USB) has upped the features available to its ReliaCard cardholders by providing native mobile applications for smartphones on Apple iOS and Google Android platforms.
The RelicaCard app allows cardholders to check their balance, review transaction history, pay bills, view mini-statements, and manage other prepaid card accounts.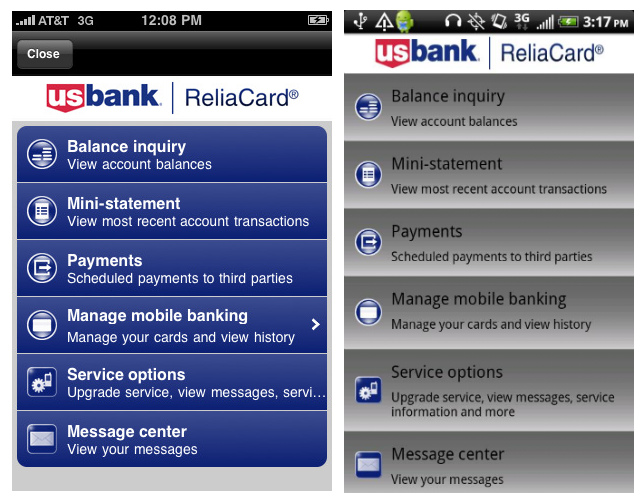 ReliaCard is a prepaid card account that serves as a recipient account when government agencies disburse recurring payments, commonly for unemployment benefits, workers compensation, and child support.
"We're pleased to introduce a full-suite mobile banking solution with bill pay capabilities to our ReliaCard customers," said Kevin Morrison, prepaid senior vice president for U.S. Bank Retail Payment Solutions, in a press release.
Developed in a partnership with Monitise Americas, a leader in mobile money solutions, and FIS, a global provider of banking and payments technologys, U.S. Bank is one of the few banks that offer dedicated mobile apps to prepaid card customers.
"In mobilizing both the ReliaCard and AccelePay card programs, U.S. Bank is providing capabilities that are typically only reserved for traditional banking customers, thereby revolutionizing the way in which prepaid cardholders are able to manage their finances," said Soren Bested, managing director at Monitise Americas.
AccelePay is another prepaid card account from U.S. Bank that is geared towards disbursement activities for business owners. Mobile banking AccelePay was released in 2010.
The U.S. Bank ReliaCard mobile application is now available for download in the iTunes store and Android Market.
Read: Study: Prepaid Cards Offer Fewer Fees Than Checking Accounts
Prepaid cards have made headway in penetrating the consumer banking market as debit card swipe fee rules slash revenue potential for banks. Because prepaid cards have the potential to stand neck and neck with checking accounts, they may receive the same treatment – including enhance mobile technologies such as person-to-person payments and mobile check deposit.
Ask a Question