Foursquare Partnership Indicates Rise in Importance of Local Deals
Companies have been tackling the new local deals space from many different angles, once they realized its potential. Now, Foursquare is upping its game with a new revenue-sharing partnership with five daily deals companies.
After Foursquare launched a partnership with American Express to offer local deals to consumers when they check in on the site, Foursquare wanted to expand that to include many deals across the market as well as finally perhaps monetize their user-base of 10 million. The location-based service announced it had partnered with LivingSocial, Gilt Groupe's Gilt City, zozi, BuyWithMe and AT&T Interactive to enable Foursquare members access to additional discounts that can be purchased through the social network's app.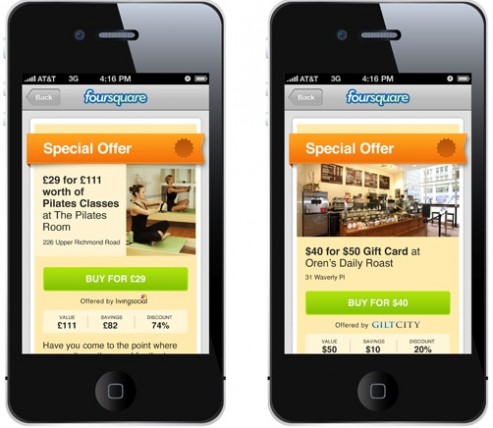 With daily deals being offered through all of these partners, Foursquare will allow users to see all the deals that are around them in realtime. Also, the deals offered will be tailored toward each user based on previous check-ins and if some of your friends have been there. This partnership means more advertisement for the daily deal companies, and more of a reason to check your Foursquare.
Similar product, different approach
This differs from seemingly similar merchant rewards services like BillShrinkStatementRewards and edo Interactive Prewards.
The former will access your transaction history to determine your spending habits and find the right deals for you, but savings can increase even further based on your geo-location. This means if you were walking by a Barnes & Noble and they're currently offering a 20% discount, they may bump it up to 25% to add that extra incentive to draw you into their store.
In the case of the latter, a preward is a coupon emailed to you from edo that you download onto your bank card. It's effective immediately, so once you make the purchase the savings are applied straight to your account, and you'll receive an email confirming this after paying.
While Foursquare deals have nothing to do with your bank statement, the technology from the different services definitely overlap and may even compete with one another in case deals can't be combined or are for competing stores. As predicted, the space of instant applicable rewards is becoming saturated with companies who all think they have the game winning product.
Foursquare has a huge user-base already, but rewards based on your bank statement may be more pointed for consumers, and it shows you directly how much you'd be cutting out of your bill, letting you see the savings. On the other hand, having to download the coupon at home ahead of time is a hassle and may prove too cumbersome for mass adoption.
What we should hope for
A true fusion of the two, which is what BillShrink aimed for with StatementRewards, would seem to be the most successful option. If you can merge local Foursquare deals with existing rewards based on your actual statement, then you'll find massive savings on pretty much everything that you need.
This would change the way people shop because they will expect discounts everywhere they go, so if there are none available potential shoppers may not even enter that store. On the flip side, as is already the case, they may start purchasing more unnecessary items due to the deep discounts being shoved in their faces.
The only way to close yourself off from this inevitable shift in the way we shop is to shut off your smartphone.
Ask a Question