New Fundability Tool From BoeFly Shows Borrowers' Attractiveness
Thinking of starting a small business? Consider franchising, as recent analysis from BoeFly shows that franchise lending opportunities are increasing.

As many small business owners can tell you, finding the best loan can be extremely tricky. Some people will shop around to over 20 lenders and not get a suitable offer, if any.
BoeFly sought to provide a solution to this problem, by creating an online marketplace to connect lenders and borrowers from all over the country, much like an online dating service. The site displays loan requests from borrowers, which can be viewed by all the banks on the site without either party traveling a mile. Then, banks can connect with the borrowers and propose financing, allowing the borrower to choose the best one.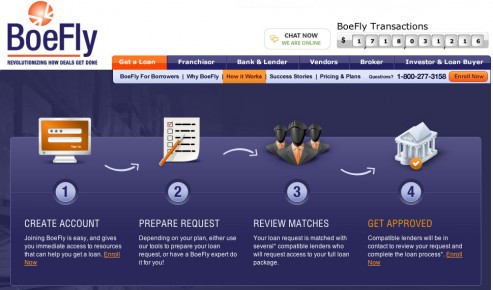 David Nayor, Co-President and founding member of BoeFly's executive team, explained in a phone interview about how easy it is to navigate the many offers a borrower may receive on the site as opposed to the inefficient process of going from bank to bank and possibly not getting the best possible loan. "The great part about BoeFly is that banks understand that there are potential clients online, and that's a major pull for them to see who's looking," he said. "And, since the loan package is complete, it eliminates a lot of the back and forth usually involved with trying to obtain a loan."
By doing so, BoeFly creates what Mr. Nayor likes to call a "clean transaction."
Benefits of Franchising
BoeFly announced in a release last week, that after analyzing the 1,000+ BoeFly bank members and over $850 million of loan requests posted by small business borrowers on the site, bankers showed a higher degree of interest in requests from franchise borrowers than from independent business owners. BoeFly believes that this can indicate the types of loans that banks are actively pursuing, so as this trend continues, independent business owners would be wise to take note.
The statistics that BoeFly found most interesting were:
Franchise start-ups receive 15 percent more lender requests than independent business start-ups
Franchise owners looking for working capital loans receive 47 percent more lender requests than independent businesses
Franchise owners looking to refinance receive 18 percent more lender requests than an independent business
Franchise loans are probably more attractive since they pose a lower risk alternative for business lenders, as shown by this data.
BoeFly's Fundability Tool
Now in light of this, it would seem that in general independent business owners are just fresh out of luck, and will not see the numbers that franchises are privy to. However, says Nayor, this is not necessarily the case, as BoeFly just released a new Fundability Tool yesterday, which allows borrowers to assess how fundable they are.
"The Tool will generate a Fundability report card for borrowers, telling them how many lenders would be interested in their loan as well as providing a Fundability score," he said. "Never before have borrowers had access to valuable real time lender preferences and matches"
Not only is this a cheaper and more efficient way to search for a loan than by hiring a broker or actually traveling to local banks and lenders individually, the report also highlights weaknesses in your loan package. "In this way, marketplace data paints a picture of fundability and points out gaps in your package, which you can try to improve with the help of free resources from BoeFly," Nayor said. "Armed with this new information, borrowers will be much better prepared when posting their loans on BoeFly and connecting with banks."
Ask a Question