American Express Cuts Restaurant Cash Back on TrueEarnings Card
The popular TrueEarnings® Card from Costco and American Express becomes a tad less attractive as cardholders get less cash back at restaurants.
American Express (NYSE: AXP) has cut the cash back rate from 3% to 2% at restaurants on the TrueEarnings card starting in August.
The change appears to be very small reduction but diligent consumers with cash back credit cards will tell you that there is a major difference in just one percent cash back.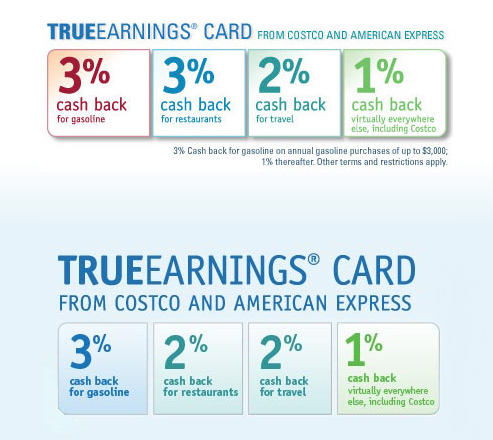 According to the National Restaurant Association, the average household expenditure for food away from home was $2,619. By that figure, the average TrueEarnings cardholder would miss out on $26.19 in cash back.
In statements sent to cardmembers, American Express provided the following notice:
"With billing periods starting in August 2011, we are reducing the reward percentage earned for eligible purchases at restaurants from 3% to 2%. However, if your account was opened between August 1, 2010 and July 31, 2011, you will continue to earn 3% on eligible purchases at restaurants until the start of your 13th billing period. You will then earn 2% on eligible purchases at restaurants as described by the agreement."
There are no other changes to Costco-branded TrueEarnings Card from American Express.
The change to the TrueEarnings card is minuscule compared to the change to the popular American Express Blue Cash card in April.
As one of the most popular cash back credit cards on the market, the Blue Cash card was dropped for the Blue Cash Everyday card, which traded a tiered cash back structure (up to 5% cash back) for a categorical cash back format (top cash back of 3% at supermarkets on up to $6,000 per year in purchases, then 1%).
Luckily, the TrueEarnings card continues to dish out 3% cash back for gasoline as the American population pouts in the face of high gas prices.
If you are a TrueEarnings cardmember, how much of an effect will this change have on you?
Ask a Question