Kimora Lee Simmons Designs New RushCard
Russell Simmons isn't letting an investigation stall his ambitions for the prepaid credit card company, Unirush LLC. The company recently released a sleek new KLS RushCard specially designed by Simmons' former wife and fashion designer Kimora Lee Simmons.
The new card, called the KLS RushCard is about as flashy as its designer and offers the same features as other prepaid cards offered by UniRush, meaning it can be used anywhere that Visa cards are accepted.
The KLS RushCard is amongst Unirush's more expensive prepaid card choices and carries a one-time card fee cost of $14.95. In comparison, the RushCard with the most basic design—a black background—carries a $3.95 card fee. Whether or not the KLS RushCard justifies the extra cash may be in the eye of the beholder, though Kimora had her own take on the value of her card's design.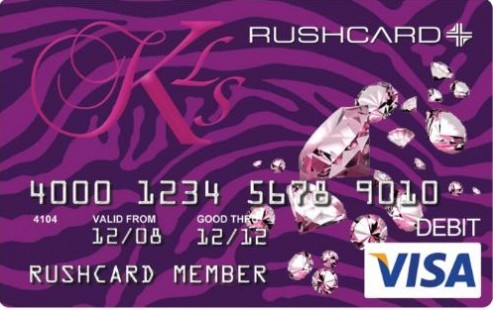 "Prepaid Visa RushCard users are people with style, flair, and confidence —Why shouldn't their money look as fabulous as they do?" said Kimora in a statement.
The company's Baby Phat prepaid card, featuring a pink background with shiny diamond, also charges a $14.95 card fee.
According to the card's website, RushCard users pay no more than $15.90 in monthly fees on average. In comparison, checking account customers pay $40.67 in monthly fees on average while those that rely on check cashing store services pay $41.88 on average.
UniRush, Four Other, Still Under Investigation:
More recently, UniRush was one of five prepaid card companies subpoenaed by Florida Attorney General Pam Bondi for claims that it allegedly misrepresented its product by claiming it could improve credit scores. The investigation will also attempt to uncover whether or not the card contained hidden fees. Other companies named in the suit included First Data Corporation, Green Dot Corporation, Account Now, Inc. and Netspend Corporation.
Here's the emailed statement a representative from NetSpend sent:
"NetSpend's mission is the empowerment of its customers. We design all of our marketing materials and other consumer disclosures to meet or exceed all of the requirements of applicable federal and state law, and we are confident that any objective review of our programs and materials will result in the same conclusion. We are working cooperatively with the AG to answer their questions and help them see the quality of our disclosures to the customers we serve."
Here's another statement from the Florida Attorney General's Office:
"The Florida Attorney General's Office investigation regarding the Rush Card is an active investigation and is part of an industry-wide review of product marketing, packaging and on-line disclosures regarding prepaid debit cards."
A rep for First Data declined to comment on the investigation, but said that the company has always been offered "fairly and openly and in full compliance with our legal obligations."
Representatives from Greet Dot and AccountNow couldn't be reached for comment.
Read: Russell Simmons' Prepaid RushCard, Four Others, Investigated Over Hidden Fees
For those unfamiliar with the RushCard's fees, here's how they break down:
| | Monthly plan | Pay as you go plan |
| --- | --- | --- |
| Card fee (one time) | $3.95-$14.95 | $3.95-$14.95 |
| Monthly fee | $9.95 | $0.00 |
| Convenience fee | Use your PIN: $1.00, Non-PIN: Free | No less than $1/no more than $10.00 per month |
| ATM balance inquiry fee | $0.50 | $0.50 |
| ATM withdrawal fee | Two (2) free each calendar month, $2.50 for each ATM withdrawal after first two | $1.95 |
| International convenience fee | WIth PIN: $1.00; without PIN: free | $2.00 |
| International ATM withdrawal fee | $2.50 | $1.95 |
| Currency conversion fee | Up to 2% of transaction amount | Up to 2% transaction amount |
| Add money | Free | Free |
| Online statement | Free | Free |
| Paper statement | $1.00 | $1.00 |
| Maintenance fee | $0 | $1.95 |
| Express cash fee | $30.00 | $30.00 |
| Bill pay enrollment fee | $2.00 | $2.00 |
| Bill payment fee | $1.00 | $1.00 |
| Plan change fee | $1.99 | $1.99 |
| Replacement card | $3.95 | $3.95 |
| Card-to-card transfer fee | Personal card-to-card: free; cardholder-to-cardholder: $2.95 | Personal card-to-card: free; cardholder-to-cardholder: $2.95 |
UPDATE:
Here's a statement from Green Dot's CEO Steve Streit:
"Green Dot's fee policies and disclosures are well-vetted and well-regarded and we take our stewardship as a consumer focused company seriously. We are supportive of the Florida AG's inquiry and will certainly respond promptly."
And, here's AccountNow's statement:
"AccountNow and the four other largest prepaid card companies recently received subpoenas in connection with an industry-wide investigation by the Florida Attorney General into the practices of prepaid debit card companies. The investigation is focused on how fees are being disclosed, and on claims promising to improve consumers' credit scores. AccountNow believes that it has been comprehensive and clear in its disclosures and claims, and the company will cooperate fully with the AG's investigation."
Ask a Question