Bank of Internet Offers Scanner-Based Remote Check Deposit
Bank of Internet joins the group of online banks that provide remote deposit capture via a scanner.
Released two weeks ago, MyDeposit is the scanner-based check deposit feature from Bank of Internet (NASDAQ: BOFI). It allows customers to deposit endorsed paper checks when they're scanned and check images are submitted electronically.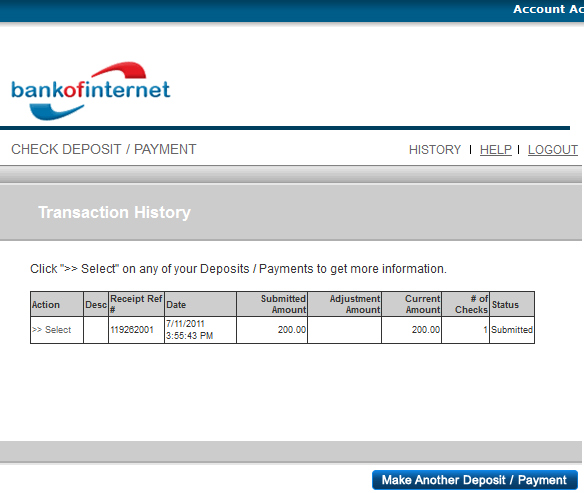 Prior to the scanner-based deposit feature, customers were able to deposit checks directly into their accounts with postage-paid envelopes.
Like many other banks that offer the product, there are limits to the amount that customers can deposit. These caps serve to reduce the risk of check fraud. Bank of Internet's MyDeposit product has a $10,000 deposit limit per day.
MyDeposit is available to all accounts except CDs. Rewards Checking, High Interest Checking, High Yield Savings, and Money Market Savings accountholders have access to this convenient feature.
Read: Bank of Internet Launches Free Rewards Checking Account
Bank of Internet suggests customers hold on to checks for at least 90 days after they're deposited.
For customers awaiting mobile consumer banking technology, there's good news. A Bank of Internet representative confirmed that a native smartphone app with mobile check deposits is in the works. It is expected to arrive soon but no specific timeline was given.
A Growing Online Bank Industry
The developments from Bank of Internet are signs of strategic growth as consumers are likely to leave large brick-and-mortar banks for online banks, which tend to deliver better customer service and higher interest rates. Currently, Bank of Internet is offering leading nationwide CD rates.
Ally Bank, a popular online bank competitor, offers products, services, and perks that are very similar to those available at Bank of Internet. Ally Bank has $40.7 billion in deposits, according to its first-quarter earnings report.
As of March 31, 2011, Bank of Internet held a comparatively small $1.3 billion in deposits. The bank has reported increases in deposits and assets for the past 10 consecutive years. With new deposit technology and consumer products, Bank of Internet is likely to experience significant growth of customer deposits.
"MyDeposit is part of our commitment to provide our customers innovative solutions that allow us to deliver all the functionality of a branch-based bank, while continuing to provide a significantly better value to our customers in the form of better interest rates and lower fees," said Greg Garrabrants, President and CEO of Bank of Internet, in a press release. "As other banks increase fees for checking accounts and reduce features, we are moving rapidly against that trend and toward offering our customers better value products that will allow them to migrate away from branch-based banks for their primary account relationships."
Ask a Question