American Express Continues to Expand Serve(SM) Mobile Payments Service
This summer Sprint Nextel will become one of the first wireless carriers to adopt American Express' Serve(SM), a mobile payments platform allowing consumers to send and receive money and make online and offline purchases on their smartphones.
Sprint customers with select Android-powered smartphones will now be able to use the Serve's mobile wallet technology to make payments through Sprint Zone–a free application that allows Sprint customers with smartphones to manage their wireless accounts. The partnership will allow Serve to tap Sprint Nextel's customer base of more than 51 million wireless subscribers.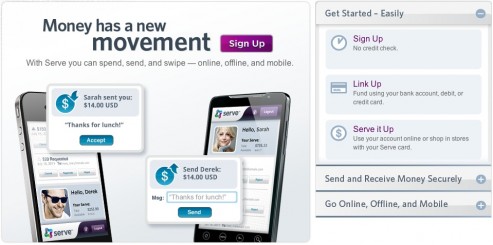 Serve, which launched back in March, is a mobile wallet service that allows customers to make person-to-person money transfers, mobile payments and in-store card payments and online transactions with one account. Serve accounts are funded either by one's bank account, debit, credit or charge card, or from receiving fund from another Serve account holder, while sub-accounts with spending profiles can also be set up for friends and family members. Serve customers can also receive reloadable prepaid cards linked to their accounts that can be used at merchants that accept American Express (NYSE: AXP) cards.
Read more: American Express Unveils New Digital Payment Platform
Through the new partnership, Sprint customers can now use their Serve accounts to pay off their mobile phone bills and can receive special offers on good and services in the future.
Serve announced in mid-April a partnership with mobile payments processor Payfone that would allow Serve customers to link their cellular phone numbers to their Serve accounts and have all charges incurred added to their monthly cellular phone bills. The same week of that announcement Payfone closed on a $19 million strategic funding round from investors that included AmEx, Verizon Investments Inc. and Rogers Communications.
Learn: American Express and Payfone Partner to Deliver New Mobile Payments Platform
The ever-expanding mobile payments market is expected to increase from $162 billion in 2011 to $984 billion in 2014, according to the Yankee Group. More recently, eBay paid $240 million to acquire mobile payments business Zong–a business expected to complement it PayPal service.
Check out: eBay Inc. Pays $240M to Expand Mobile Payments Services
Ask a Question