Chase Revamps Online Customer Account Interface
Chase credit card customers may notice a redesign of their online account activity page to improve readability and usability.
Chase (NYSE: JPM) revamped the account activity page, touting less clutter and better account management, for online banking customers over the weekend.
On Thursday, the bank sent out service messages to announce scheduled maintenance from July 15 to July 17 that may render many services of online banking and mobile banking unavailable.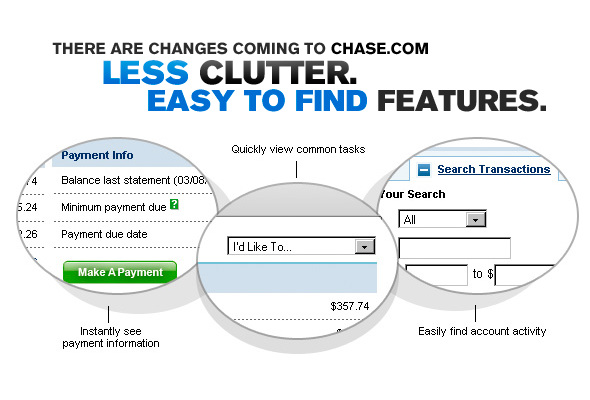 Now, Chase card customers will find less clutter on the account activity page. Pending charges and temporary authorizations have been separated from the transactions that have already been cleared and posted to the account. The sections make it easier to view important account information and payment information.
Frequent online banking customers will find that the right sidebar in the previous design has been eliminated and it has been replaced by a drop-down "I'd Like To…" box with calls-to-action for many common tasks.
A welcomed feature in the changes is the ability to search past transactions. Customers who like to keep a close watch on their spending can find particular transactions in their account history based on time range, transaction type, merchant name or keyword, and the range of the transaction amount.
The feature is commonly found in personal finance management tools such as Quicken and Mint.com. But, customers who don't utilize such PFM tools can find information on specific transaction directly from their online accounts if they ever need to do so. Previously, searched transactions could only be filtered by date range.
Currently, the update does not affect the account activity page for Chase checking customers, who continue to see a right sidebar with a list of account options and tasks. Chase is very likely to extend these enhancements to checking accounts for the same type of improved account readability and maneuverability.
Ask a Question