American Airlines Launches Citi Executive AAdvantage World Elite MasterCard
A new high-end travel rewards credit card from American Airlines joins the fleet of competing airline cards.
Citi (NYSE: C) and American Airlines (NYSE: AMR) partner to announce the launch of the Citi Executive / AAdvantage®World Elite MasterCard, a rival card to the likes of the Continental Airlines Presidential Plus Card and the Platinum Card® from American Express.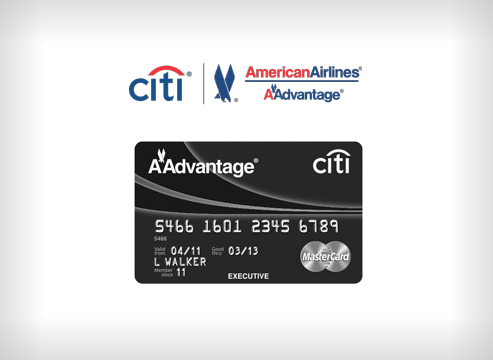 The card targets affluent Americans who are willing to pay an annual fee of $450 to receive perks including unlimited access and membership privileges to American Airlines' Admiral Clubs, priority check-in, screening and boarding, baggage charge waivers, and concierge service.
Similar to other airlines travel rewards cards, cardmembers earn more points on airline purchases. On the Citi Executive AAdvantage®card, cardholders earn 2 miles for every $1 spent on American Airlines purchases and 1 mile per $1 spent on everything else. Additionally, get 25,000 bonus miles after spending $1,000 in the first 4 months.
Some airlines card will offer miles as cardmember anniversary gifts, but the Citi Executive AAdvantage®card will hand out 10,000 AAdvantage®Elite Qualifying Miles when $40,000 is spent on the card per calendar year. Depending on the elite status level, cardmembers can receive complimentary upgrades, mileage bonuses, reservation assistance, and airport and travel benefits.
Credit card issuers, including JPMorgan Chase, U.S. Bank, and Wells Fargo, have started a trend where new luxury travel cards carry no foreign transaction fees on purchases abroad. And they sport EMV chip functionality, which is a secure, contactless method of payment that has been adopted by foreign country in the light of rampant card skimming.
With a sleek, black design exuding a sense of prestige and mystery, the Citi Executive AAdvantage®card delivers the same benefits.
"The new Citi Executive / AAdvantage®card is a direct reflection of the benefits frequent flyers are seeking in a rewards card and underscores the commitment of Citi and American Airlines to enhancing our customers' experiences," said Terry O'Neil, Executive Vice President of Citi Cards. "With premium travel benefits, accelerated AAdvantage®miles earning opportunities and enhanced convenience, the Citi Executive / AAdvantage®card unlocks exclusive access to elite-level benefits cardmembers can't get with any other credit card."
Ask a Question