AmEx Brings Coupon-less Deals to Facebook
In a continued effort to become more social, AmEx has extended their coupon-less platform to Facebook through a new app call "Link, Like, Love,". Starting today, card members can link their American Express Cards, choose from exclusive coupon-less deals and receive statement credits rewards.
To get started, all you need to do is visit this new special tab within American Express' (NYSE: AXP) Facebook page. Once there, you will be directed to, "like and share many things on Facebook…(and)…American Express has deals and experiences for you based on those likes and interests. And once you sign up and choose your deals, all you have to do is use your American Express Card and statement credits will be sent directly to your Card account. No coupons. No hassles. Just a credit on your statement, and savings in your pocket."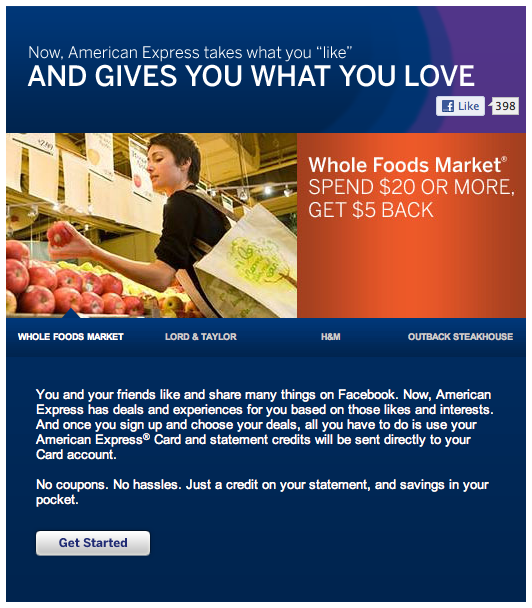 This isn't the first time AmEx has leveraged a social platform to drive engagement with their own cards. Earlier this month, AmEx fully rolled out their coupon-less, check-in deals platform on Foursquare.
Unlike the Foursquare platform, most of the 100 participating merchants are national brands, including 20th Century Fox, Dunkin' Donuts, Whole Foods Market, Lord & Taylor, Outback Steakhouse, Fleming's Prime Steakhouse & Wine Bar, Virgin America, Bonefish Grill, H&M, Roy's Hawaiian Fusion Cuisine, Westin Hotels & Resorts, Carrabba's Italian Grill, Sheraton Hotels & Resorts, Celebrity Cruises, Lenovo, Sports Authority, 1-800-FLOWERS, and Travelocity.
Link, Like, Love: How it Works
To fully understand how the new app works, American Express shared the following example. If a cardmember "likes" Whole Foods Market on Facebook or has "checked in" on Facebook Places, she may see a Whole Foods Market deal in her dashboard. If her friend has the Fox television show "Glee" as one of his interests on Facebook, he may see an exclusive experience for Glee the 3D Concert Movie on his dashboard. Cardmembers can share deals with friends, choose the deals they want and then use their card as they usually do to claim the offer.
In addition to the announcement of the Facebook deal, American Express also unveiled a first-of-its-kind marketing tool, "Go Social," for its small business merchants to create and distribute coupon-less cardmember offers into digital channels. With "Go Social" merchants now have a simple way of going social without having to hurting their business as many daily deal sites can.
To celebrate the new announcement, American Express is hosting a Livestream Q at 11am Eastern were users can watch a demo and find out details.
Ask a Question