Consumer Price Index Sees First Drop in One Year
A drop in gas prices in June caused the Consumer Price Index for the month to fall by 0.2 percent, which is its first drop in a year. However, prices of almost everything else rose, according to figures released Friday by the Bureau of Labor Statistics.
The costs of food, shelter, clothing, medical care services and vehicles all increased in June, but the large decrease in the price of gas caused the overall index to drop. However, since food and gas are considered too volatile to show long-term trends, the core index omits the two; it increased 0.3 percent.
Also, don't let a relatively sizable decrease in gas fool you to think that things are improving; gas prices are up 35.6 percent and overall inflation is up 3.6 percent year over year. The Labor Department report also indicates a 1.6 percent bump in the core index, which is slightly lower than the two percent increase the Federal Reserve would like to see.
Back to the topic of the cost of eating, the CPI for food increased by 0.2 percent in June, which is its smallest increase of the year, and follows a 0.4 percent increase in each of the prior two months. This was helped by a three-month-in-a-row decline in the fruits and vegetables index, which fell by 0.3 percent.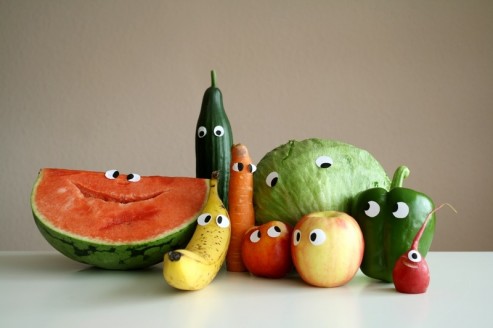 This could be related to a study by Gallup showing that consumption of fruits and vegetables has declined among millions of Americans because unhealthy foods are undercutting the competition. This is one result of huge government subsides for food products like corn, which is found in most junk food after being processed into corn syrup for many unhealthy products from soda to fast food.
Read: Higher Food Prices Shift Eating Habits Around the World
According to a report from Time Magazine, the U.S. government injected $50 billion into the corn industry in the last decade to keep prices low. That is how McDonalds can assemble a feast for just $5 featuring a burger, fries and a drink.
This influx of cash leads to disheartening results. A dollar can be used to buy 1,200 calories of potato chips or 875 calories of soda but just 250 calories of vegetables or 170 calories of fresh fruit.
Despite the recent fall in the CPI for produce, consumers will continue to purchase junk food if the government doesn't level out the playing field. Healthy options should be more available to the public, even if it means concessions from both sides.
Learn: Meat Prices on the Rise: 4 Tips to Save in the Checkout Lane
Ask a Question