New Delta JFK Terminal and Flight Cuts Show Shift in Industry
Anyone who has recently taken a Delta flight to JFK Airport has ample reason to look forward to the $1.2 billion expansion of Terminal 4. But while those traveling into New York anticipate larger shops, nicer dining and ultimately smoother travel, 24 small towns may lose their Delta service altogether.
Delta was pleased to announce in a press release yesterday that the steel frame of the extension of Concourse B in JFK is visible as planned. The company projects that the state-of-the-art facility at its key international gateway will be open by 2013. They began construction in November 2010.
The Delta expansion will result in the creation of one of the largest air terminals in North America at 1.5 million square feet, and it will feature one of the largest Sky Clubs in the Delta system, as well as nine new international gates.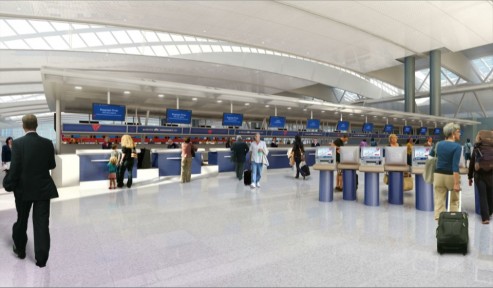 "Delta's expanded and enhanced Terminal 4 at JFK will provide a modern international gateway for millions of travelers and accommodate future growth for Delta in New York," said Gail Grimmett, Delta's senior vice president for New York. "The project will create 10,000 jobs in the region and $1.6 billion in economic output from the purchase of goods and services by 2014."
However, while Delta sits back and watches the construction press on in New York, the city residents' polar opposites in rural America are about to face further blows with the loss of their airline service. Just last week Delta announced it "can no longer afford" to continue service at 24 small airports citing that those cities cause a loss of $14 million a year on flights. They include flights to cities like Thief River Falls, Minnesota that fills only 12 percent of the seats, and Pierre, the capital of South Dakota, where Delta's two daily flights are usually half empty.
With high fuel prices, the raw economics of the industry are driving airlines out of small-town America causing carriers to reduce domestic routes and seating capacity in order to focus on the flights that bring in the most revenue per plane, namely, international flights.
Read: Senator Schumer Stands Up to Airline Industry
In fact, Delta has added more than 30 international routes from JFK since 2006, displaying the incredible powers of globalism as the focus of the expanded terminal (aside from gaining revenue). Currently, Delta's JFK hub has more than 192 peak-day departures from 43 gates to 94 destinations, including 47 international cities, which is almost double the amount of small towns slated to lose air service. Delta also prides themselves on being the only airline to serve five continents nonstop from New York (North America, South America, Asia, Europe and Africa).
Delta already has invested more than $70 million in its JFK hub over the last few years, in order to secure itself as the largest airline in New York State serving 11 communities with 439 daily departures. The carrier employs more than 7,000 people in the State of New York.
Further Reading: Airlines Need Twitter to Connect to Passengers
Ask a Question