How to Save, Invest Like Fed Chairman Ben Bernanke
The most prominent figure in governing America's monetary policy sheds light on how he manages finances during a struggling economy.
Federal Reserve Chairman Ben Bernanke is constantly under the spotlight as the U.S. economy makes a wobbly recovery from the latest financial crisis.
The central bank has opted to keep benchmark lending rates near zero, putting downward pressure on low-risk savings options across the board. Meanwhile, the stock market has gradually redeemed itself – but it appears to be standing on faulty legs, ready to send the U.S. into another recession at any moment.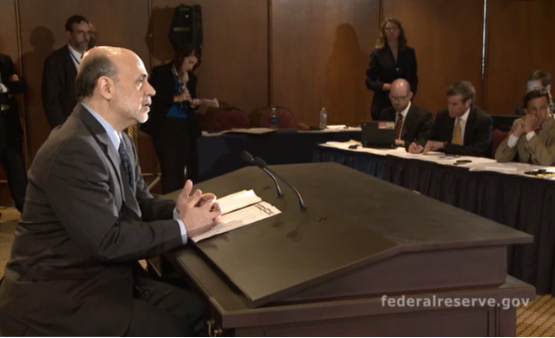 The scenario presented to the everyday American: savings rates are unbearably low and the stock market seems to risky. Surely, the head of the Federal Reserve, the institution that plays a significant role in the U.S. economy, would have a better idea of how to establish a comfortable nest egg amid lackluster savings and investment options.
For reference, Ben Bernanke is 57 years old and had a salary of $199,700 in 2010 as Chairman of the Federal Reserve. He is required to publicly share his financial accounts and income in an annual disclosure report.
Ben's Financial Accounts
Of Bernanke's three retirement accounts, two of them include a 403(b) plan at TIAA-CREF, when he was a professor at Princeton University, and a 401(a) plan at Vanguard, when he was with the National Bureau of Economic Research. Both accounts no longer receive contributions.
In the TIAA-CREF account, Bernanke had $500,001 to $1 million in a fixed annuity, which guarantees principal and a 3% minimum interest rate in addition to possible dividends, and another $500,001 to $1 million in a variable annuity, which invests in a large cap blend of U.S. and foreign stocks. Also, $1,011 to $15,000 in held in a money market fund.
The Vanguard account holds a small $1,001 to $15,000 in the Vanguard International Growth Fund.
The third retirement account is an SEP IRA, for which he qualifies through earning $150,002 to $1.1 million in textbook royalties, holds $32,002 to $130,000 in BlackRock High Yield (bonds and asset-backed securities), BlackRock Large Cap (U.S stocks only), Merrill Lynch Retirement Reserves (government securities), and U.S. STRIPS (government securities).
On the banking front, Bernanke has a Merrill Lynch Cash Management account and SunTrust Bank checking and money market accounts with a total of $31,002 to $115,000.
Following in Ben's Footsteps
Even with interest rates at super low levels, Bernanke has plenty of cash in his bank accounts. Despite the abysmal returns on deposits, he shows that it is still essential to save money.
When it comes to investing, he prefers large companies, with a higher affinity for U.S. stocks over international stocks. Bernanke also utilizes a large range of low risk investments in government debt, asset-backed securities, and cash-generating securities.
Closing in on retirement age, Bernanke holds less than 50% in equities in his portfolio, which is expected for anyone approaching the later stages of their career. He is heavily diversified in the bonds and cash portion of his portfolio as it offers liquidity and stability when he stops receiving income.
Overall, he has a conservative amount in cash in bank accounts and is conservatively diversified in retirement account. Bernanke exhibits a textbook asset allocation that is followed by many government officials, including President Barack Obama.
Follow Simon in the MyBankTracker.com Community and on Twitter: @simonzhen.
Ask a Question