Ally Bank Wants to Poach ING Direct Customers
ING Direct customers who are ready to take their business elsewhere are being greeted by Ally Bank with open arms.
Ally Bank is capitalizing on the unsettling commotion following the sale of popular online bank ING Direct to Capital One by openly welcoming ING Direct customers and their deposits.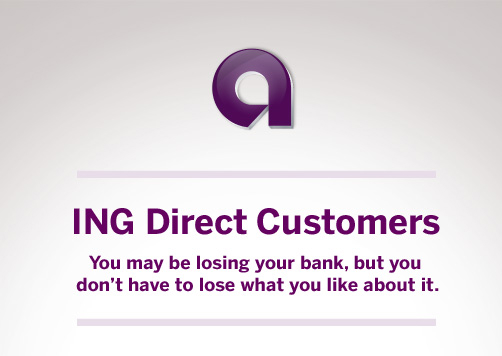 In a Straight Talk Blog post titled "An Open Letter from Ally Bank To ING Direct Customers", Ally says:
"We know that our customers would be concerned if a new bank bought Ally, so today's post is directed to those savvy ING Direct account-holders who are looking around and considering their options."
"So in the event that you're looking for a new place to bank, why not take a look at what Ally has to offer?"
ING Direct is well-known for its competitive interest rates, simple online account interface, and praised customer service. Capital One's reputation isn't nearly as celebrated, which is why soon-to-be Capital One customers aren't too happy about their "new" bank.
In a recent bank review, MyBankTracker.com member bcalnyc wrote:
"I have loved being an ING customer. Their services & customer service have been exemplary. Now I am IMMEDIATELY closing my accounts. Their purchase by Capital One, a company whose unethical behavior is repugnant to me, does not allow me to continue to do business with them."
Ally's Allure
Ally is brazenly taking advantage of the general dissatisfaction of ING Direct customers and it's boasting the products to back up its open invitation.
Like ING Direct, Ally Bank delivers attractive rates, an intuitive online account experience, and friendly customer service. Their online savings accounts – with competitive rates, no monthly fees, and the ability to create sub-accounts – are virtually identical.
While ING Direct's interest checking account offers the potential to earn a higher APY, Ally Bank's Interest Checking account offers unlimited nationwide ATM fee refunds, paper checks, scanner-based check deposits, and a merchant-rewards program.
As of July 21, Ally Bank's CD rates are generally beating those offered by ING Direct, while also offering the No-Penalty CD and Raise Your Rate CDs. Additionally, Ally has a money market account that requires no minimum balance and offers many features of its interest checking account.
But, ING Direct has a leg up on the mobile front. It already has mobile applications for iPhone, Android, and BlackBerry devices with intentions to launch mobile check deposits. Meanwhile, Ally Bank does not have any mobile apps – but is almost definitely working on them.
Sparking the Movement
Before news broke that ING Direct was being sold, it was in a constant battle with Ally Bank but customers didn't flock to the Ally because there was a strong sense of brand loyalty. The Capital One acquisition was the trigger.
Here's a response from Red to this article:
"I'll be moving to either PerkStreet or Ally later this year. I have no interest in banking with Capital One even if the service stays the same."
That describes the sentiment of many other ING Direct customers.
So ING Direct customers, whether your banking experiences change or not, do you plan on moving your money to Ally Bank?
Ask a Question