American Airlines Struggles with Money Management
American Airlines posted second quarter losses of $286 million, or 85 cents a share, from $11 million, or 3 cents, last year despite increasing their traffic. Nevertheless, they still completed the largest plane order in history.
While six of the seven biggest U.S. airlines have posted or are expecting to post profits despite concerns over the economy, fuel prices, travel demand and other issues driving down share prices, only American Airlines (NYSE: AMR) posted losses.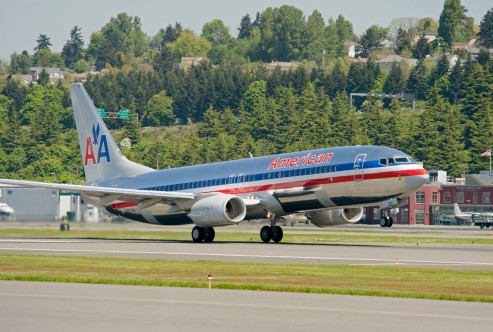 This is most disconcerting because a solid traffic bump seen by American Airlines and its subsidiary American Eagle, which shuttles passengers between small cities and national hubs, is unique among the mega airlines. In June, traffic on American and Eagle grew 2.3 percent year over year compared to losses seen by the two biggest U.S. airlines, Delta and United Continental Holdings. However, that is just a modest gain compared to a 7 percent increase posted by lower cost carriers Southwest and JetBlue.
American's record-setting plane order
Having said that, it doesn't seem like American is ready to be placing an order for 460 new planes consisting of 260 Airbus A320s and 200 Boeing 737s, listed at around $38.5 billion plus options and future purchase rights for 465 more. And, without the $13 billion of financing provided by the plane makers on the first 230 jets it probably would not have been possible.
American claims that the huge order was necessary to replace older, less fuel-efficient jets in the fleet. Fuel prices are a double-edged sword when it comes to airlines because their fluctuations have such far-reaching effects.
Each time a gallon of jet fuel increases in price by one cent, American Airline's annual expenses inflate by about $28 million, causing them to raise ticket prices and fees and discouraging travelers from taking to the air. Similarly, if fuel prices decrease American can offer cheaper flights due to that huge free up of cash.
Read: American Airlines Launches Citi Executive AAdvantage®World Elite MasterCard
Since a steady stream of travelers is the only way for a big airline to post profits, price increases have raised questions about whether airlines may have jacked up prices unsustainably high in our weak economy. Although airlines may not have many options in this case, they may continue to see demand falter. This caused them to look for new ways to cut expenses.
American next focused on its labor costs, which are the highest in the U.S. airline industry and account for more than 30 percent of its budget. In fact, American announced they will be shutting a call centre in Dublin, Ireland that has been around for 15 years and will be letting all 130 workers go. They plan on outsourcing the labor to another country where it's cheaper.
Check out: Delta Expands Terminal, Cuts Domestic Flights
Ask a Question