Quarterly Earnings Show Impact of BofA's Countrywide Acquisition
Bank of America®'s huge losses in the second quarter of $8.8 billion, in contrast to Wells Fargo's record gains of $3.9 billion, a 29 percent increase year over year, emphasize the resounding impact of the subprime lending and BofA's acquisition of Countrywide Financial Corp.
As the dust clears over the mortgage crisis, big banks are trying to put it all behind them. However, the quarterly earnings reports show the stark differences between these two huge lenders. Their prowess tends to overlap, as Wells Fargo (NYSE: WFC) is currently the largest home loan issuer in the country, while Bank of America® (NYSE: BAC) is the largest mortgage customer service provider.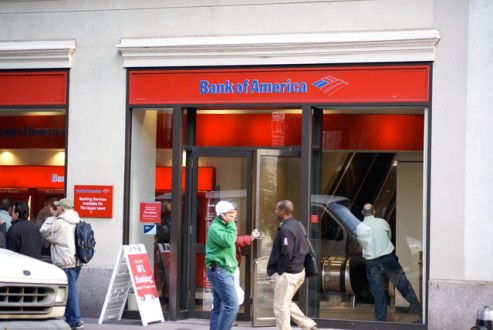 In addition to the huge losses posted by the latter, mostly related to the soured mortgages, underlying revenue fell around 10 percent, mortgage crisis aside. That said, hold your congratulations for the former as well; a decrease in mortgage lending helped cause a five percent drop in overall revenue.
Read: Housing Losses Cost $50 Billion for Bank of America®
As Americans increasingly focus on digging out of debt and borrowing decreases severely, lenders have to take into account that losses will stem from a fall-off in mortgages, credit cards and other types of revolving debt. Clearly our economy is still in trouble, and it would be hard to make a real case that the recession has ended with home prices on the decline, unemployment rate above 9 percent and consumer confidence shot by more than $1 trillion of stock market wealth disappearing since the market peaked in 2007.
Nevertheless, Bank of America®'s losses are thrown into the spotlight during this time because of the banks unprecedented $8.5 billion settlement that they agreed to last month for the soured mortgage investments. In addition, the bank also dedicated $5.5 billion to cover future claims and $6.4 billion for a series of other charges. This comes out to a whopping mortgage-related payment before taxes of about $20 billion.
Check out: Walnut Place Looking to Abjure from Bank of America® Settlement

Because of all these and other factors, lending has dropped 10 percent since its peak before the financial crisis and is expected to fall another 1.1 percent from last year.
Credit card and mortgage lending are doing even worse, as outstanding loan balances have fallen more than 3 percent since last year on each, with residential mortgages dropping over 13 percent since the crisis.
Weak consumer demand and tough lending criteria due to the crisis have forced lending to drop at such astounding rates, so banks must look for new ways to make up for loss of revenue and Bank of America® needs to lead the charge.
Ask a Question