AmEx Go Social is Next Level of Merchant Rewards
Finally, a focus on merchant rewards, but from the view of the merchant. American Express' program Go Social allows everyday merchants to enroll and post deals, but where does that leave other credit cards and rewards programs?
Before Amex rolled out this product, pioneering companies like BillShrink and edo Interactive created consumer rewards that targeted shoppers based on their purchasing habits, but the service was only available to big merchants like Barnes & Noble or Pottery Barn. Soon those partnership successes led to handshakes with a larger scope of other brands, but still excluded smaller merchants like your local wine store from taking part.
Now, American Express (NYSE: AXP), who has been on top of the social deals game, is essentially offering just that: Smaller merchants can take advantage of a program they call Go Social. This is the other end of the merchant rewards, where merchants can create, offer and manage deals across both Facebook and Foursquare (so far).
Business owners create a coupon-less deal in a self-serve manner, by choosing the type of deal, the locations where it will work, and the dates it will be available. Whenever someone with a linked American Express account buys a deal item the owner is alerted and the "coupon" is credited straight to the purchase, which is all conveniently tracked on AmEx's site.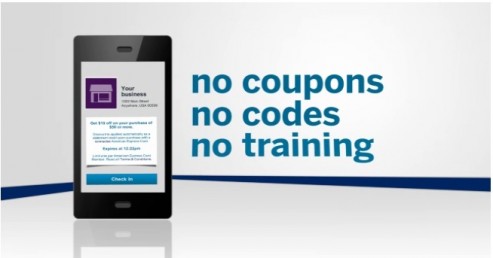 Go Social takes merchant rewards to the next level because it puts merchants on the map through the social networks and allows them to create deals to attract customers. And merchants can know which deals are doing well; the redemption tracking is guaranteed accurate because AmEx has all the payment information.
Why it's better
Go Social brings an element of edo Interactive Prewards to the AmEx world. Edo provides a self-serve solution for local merchants allowing them to create a campaign based on their marketing needs and submitting it to the entire edo network for distribution across a diverse card base.
Similarly, AmEx lovers have further reason to head to their intended destination and to pull out their shiny card. No purchasing or downloading coupons. No waiting for activation. No commitment whatsoever. Just seamless deal finding with your mobile phone and instant redemption when you slide your credit card.
Read: AmEx Merchant Rewards More Valuable to Younger Consumers
This idea is a major breakthrough in mobile payments and online deals because it brings us even closer to mass adoption. Edo lets banks and their partners offer Prewards to consumers with highly targeted deals and incentives pushed through email, web, text and app. Go Social is following right behind them.
These campaigns will also make businesses more visible because when a consumer is looking for a deal on his phone, those nearby will pop up.
Pretty soon we will say goodbye to paper coupons forever, and older mom and pop stores better make excellent pizza or fix your shoes on the spot if they want to compete with savvy young companies ready to take advantage of this technology. Plus whatever comes next.
What's next?
As I am accustomed to whenever a new mobile savings program such as this comes to the market, I question how it will affect the future of payments and, of course, the burgeoning world of Near Field Communication technology. Already this will definitely change debit rewards programs if the bank even has one in place after all the Durbin Amendment hubbub. (On that note I should mention BBVA transitioned their debit rewards program into a merchant program—sound familiar?)
With rewards more specifically focusing on what you buy and not who you bank with, we will start seeing transitions all over the purchasing world. Think about how much AmEx will drive up business with this program because you have to use their card to get the rewards!
But the fact remains that consumers go where the deals are, and they are always looking to simplify and shorten the process. Ultimately, when I get hungry walking down the street I want to search the word "burger" on my phone, see a list of nearby deals and have the one of my choice automatically credited to my account when I swipe my phone over their sleek NFC-capable POS terminal.
AmEx is headed in the right direction (although I wonder how they will attempt to use this in conjunction with their prepaid debit cards). This will and has already begun to phase out programs that live solely on your bank statements, a revolutionary concept in and of itself. While AmEx has taken social habits into account with "Link, Like, Love," ideally merchants just want to drive purchases, and the easiest way to do that is to offer discounts.
But how long will it be until a new company makes that even easier?
Ask a Question