Capital One Introduces High Interest Business Checking Account
Capital One leaps ahead with an interest-bearing business checking account following the effective repeal of a law that prohibited business checking accounts from earning interest.
Capital One Bank (NYSE: COF) has launched its Clear Interest Business Checking account, a new high interest checking account for business owners.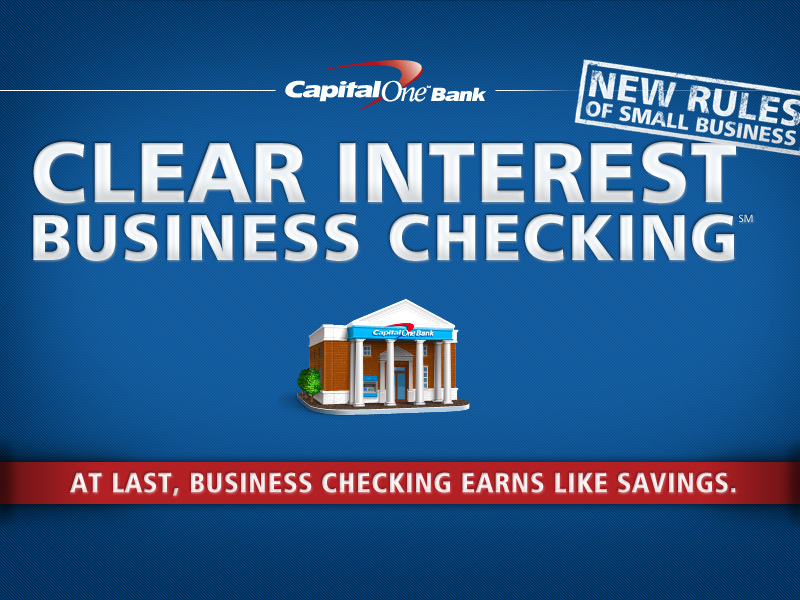 "The Clear Interest Business Checking account can fundamentally change how business owners manage their company's money," said Peter Appello, Executive Vice President of Small Business Banking at Capital One Bank, in a press release. "With Clear Interest Business Checking, business can feel assured that their idle cash is anything but – it is now working as hard they do."
The new offering from Capital One Bank comes after the repeal of Regulation Q, a provision of the Dodd-Frank Financial Reform Act that prevented banks from paying interest on deposits in business checking account. Without the hurdle, banks will be able to attract deposits through business checking accounts.
Clear Interest Business Checking
The account will charge an $8 monthly maintenance fee unless the account's minimum average daily balance is over $10,000. When deposit balances exceed $10,000 per month, a $1 fee applies for every $1,000 in cash deposits. Every transaction after the first 300 per month will incur a $0.17 fee.
The Clear Interest Business Checking account offers a 12-month promotional APY on balances between $10,000 and $100,000 when 25 or more transactions are made per month. Afterward, the interest rate falls to a "market-competitive" rate. If the balance or transaction requirements are not met, the interest will drop.
The account is available only in certain states and the promotional APYs can vary based on location and deposit balance. For example, customers in New York can earn a promotional rate of 1.10% APY.
Business owners who are interested in opening a Clear Interest Business Checking account must visit a Capital One Bank to speak with a dedicated Business Specialist. For more information, click here.
Ask a Question