Chase Improves Debit Card Policy For Gas Purchases
Paying at the pump will take on a different transactional procedure for Chase debit card customers when making gas purchases.
Chase (NYSE: JPM) is notifying debit card customers about a change to the way that the bank processes purchases for gas.
Starting July 17, customers will find a pending $1 authorization charge on their account that will serve as a placeholder for the gas purchase. When the merchant verifies the purchase, usually within 72 hours, the "final amount will change to reflect the purchase amount."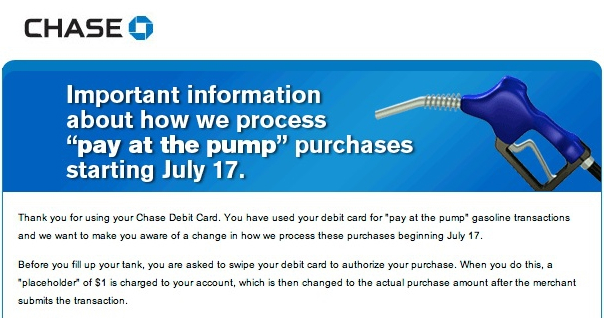 Previously, debit card customers did not see this activity on their account. So, this new change by Chase is positive news for customers.
If you are a Chase debit cardholder, you may not have received this email notification if a gas purchase wasn't recently posted to your checking account, according to a Chase customer representative.
In a typical "pay at the pump" transaction, customers are asked to insert their debit cards before the pump is activated. The merchant has no idea how much gas a customer will buy so it pre-authorizes a charge – often ranging from $1 to $75 – on the customer's bank account.
This process effectively bars the customer from accessing this portion of their account funds. Meanwhile, the merchant may take several days to finalize the purchase amount. Because customers do not see how much is held for the gas purchases, they may unknowingly conduct other transactions that result in non-sufficient funds charges and overdrafts.
Hotels, cruise agencies, and car rental companies may follow a similar practice but the new change by Chase to present a $1 placeholder transaction does not apply for these charge authorizations due to the possibility of large dollar amounts of the purchases.
For these types of transactions, consumers are often advised to use cash or a credit card and always ask the total amount of the authorization charge.
Ask a Question