MetLife Poised To Sell Banking Unit to Avert Dodd Frank Rules
MetLife Inc., one of the largest insurance companies in the United States, has plans to sell off its banking business in an effort to avoid government regulations imposed on U.S. banks through the Dodd Frank Act.
The company announced on Wednesday that it would explore a sale of its banking business, which includes savings accounts, certificates of deposit and money market accounts. MetLife, the seventh largest bank holding company by assets as of June 30, said it would continue to maintain its residential mortgage business through MetLife Home Loans.
"MetLife Bank represented just 2 percent of MetLife Inc.'s first quarter 2011 operating earnings, and we do not believe it is appropriate for the overwhelming majority of our business to be governed by regulations written for banking institutions" the company's president and CEO Steven A. Kandarian said in a statement. "In a highly competitive global insurance marketplace, it is imperative that MetLife be able to operate on a level playing field with other insurance companies."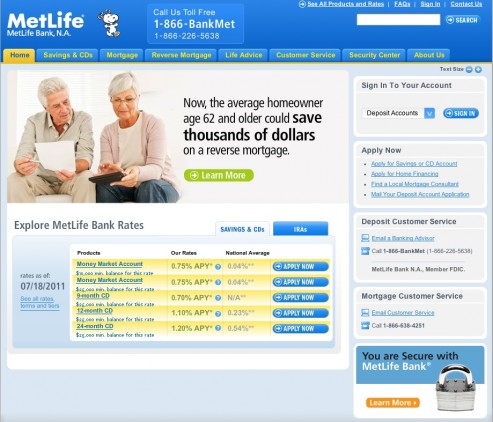 The Dodd Frank Act was signed into law in 2008 as a way for the federal regulators to more rigorously regulate the U.S. financial services, create more consumer protections and avoid the possibility of another large bailout.
Read: Financial Reform Bill Passed By U.S. Senate
Both Hartford Financial Services Group Inc. and AllState Corp. have already taken similar steps by ridding themselves of their retail banking businesses to avoid increased regulations imposed under the Dodd Frank Act, according to the Wall Street Journal.
MetLife, which is based in New York, had $751.3 million in assets as of the end of June according to the Federal Reserve. MetLife Bank had total assets of $15.6 billion, which included $9.3 billion in deposits as of March 31. The company only began offering retail banking services in 2001, and formed a home loans business seven years later after buying EverBank LLC's reverse mortgage business and purchasing certain mortgage assets from First Tennessee Bank.
Ask a Question