Citibank Launches Native iPad App
Keeping up with the continued trend to drive convenience through mobility, Citibank released their iPad app this past weekend.
Citibank (NYSE: C) has released the first iteration of a native mobile banking application for the Apple iPad over the weekend.
Like most other mobile banking apps, the Citibank for iPad® app allows customers to see an overview of all their Citi accounts (including credit cards) and information for contacting customer service and finding branch locations and hours. These are the basic expectations of any mobile banking application.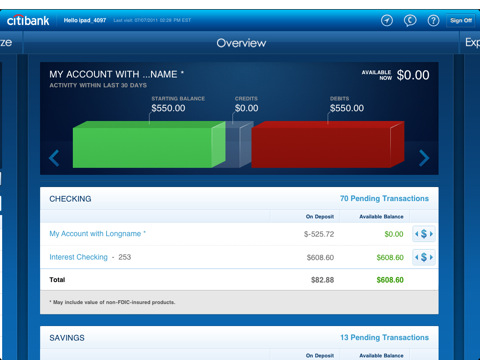 Citi's new app takes it a little further by also offering analytical components such as a spending calendar graph and pie graphs to illustrate account activity – following a trend by banks to develop mobile applications that serve more and more as personal finance management tools.
Citibank for iPad will come as a welcome addition to their existing mobile offerings. Bringing a broader view of your finances and access to powerful tools and financial information, the Citibank iPad app could be seen as a little late to the game, with both Chase and Bank of America® having had iPad apps in market for a couple of months.
Here is a recap of the main features:
See at a glance the activity in your linked Citi accounts over the past 30 days
Plan your cash flow with the help of our chart of past and future payments and upcoming transfers
View how you spend your money with our pie chart of top payees
Learn how people spend their money (filter by location, age group, income bracket or spend type)
Set up payments and transfers quickly with our streamlined flow
Follow responses from @AskCiti to customer questions in real time, with our Twitter/tablet mash-up
Let our locations finder guide you to the nearest Citi ATM or branch
Learn more about personal finance with our frequently updated content
After initial review of the features, we would have hoped to see some additions expected from today's mobile banking apps, such as mobile deposit. Even still, the new Citibank for iPad is no quick release, carrying what looks to be extremely relevant and advanced tools. Specifically the ability to "Learn how people spend their money", which allows you to review your finances and even compare against others on how spend their money.
If you are a Citibank consumer and have had the opportunity to test out the app, be sure to share your thoughts below.
Ask a Question