Just 1 in 10 U.S. Credit Unions Make the Grade
Those considering pulling your cash out a traditional bank and joining a credit union take note: a new report suggests that just 10 percent of U.S. credit unions are financially strong, countering commonly held beliefs that these financial institutions provide a safer banking alternative to traditional banks.
Just 736 credit unions in the United States are financially strong, while only 372 credit unions received the company's highest "A" rating according to a study released by Weiss Ratings, a company that rates the financial strength of U.S. financial institutions. In comparison, 2,376 credit unions, which represents just over 32% of the nation's credit unions were rating as weak.
Weiss Ratings' credit union strength data is based on financial information made available at end of the first quarter of this year. According to the company there are 7,391 credit unions in the United States. The profits of these financial institutions increased by $658 million to $1.7 billion during the first quarter of this year, even when taking into account $6.4 billion decline in lending noted during that period.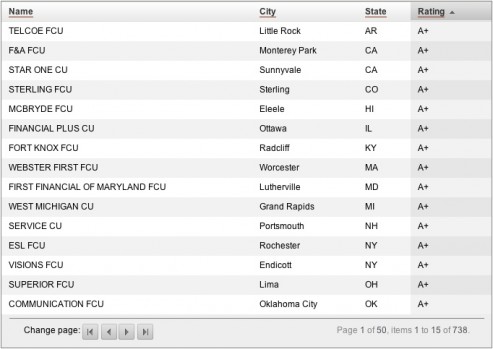 Gene Kirsch, a bank analyst for the company, said in a statement that credit union lending most likely declined this year because of high unemployment and more rigorous lending requirements.
Credit Unions: The New Destination for Banking Perks
Credit unions have long been perceived as safer, more personal banking alternative to larger banks both in the United States and around the world. Credit unions are typically not-for-profit, meaning that any profits are usually paid out to its members in the form of dividends. As more and more U.S. banks eliminating free checking and debit rewards programs in the face of tighter government regulation of the U.S. financial services industry, credit union membership has been seen as a new alternative for consumers looking for these types of services.
Weiss Ratings issues financial strength ratings for more than 11,000 financial institutions that range from A+ to E-. For those of you interested in putting your money in a credit union, check out Weiss Ratings' full list of the strongest U.S. credit unions (free sign-up required for access).
Ask a Question