Ally Financial's Ally Wallet Wise Program Helps Consumers Make Sense of Their Finances
For those of you that don't know where to turn for advice about your personal finances, you now have friend in Ally Financial. The bank recently announced plans to launch a new financial literacy program called Ally Wallet Wise: both an online and in-person financial literacy workshop series currently available nationwide.
Ally Financial has been on a roll this past year, adding a new Perks program where other banks have made the decision to eliminate rewards programs; integrating person-to-person payment services through its Popmoney service; and introducing new IRA and eCheck deposit capabilities to its growing roster of banking services. Now, the bank officially launching a financial literacy program to help consumers make better financial decisions.
If you're not a customer of Ally then don't worry—unlike its other banking services, Ally Wallet Wise only requires you be concerned with taking control of your finances. And, unlike other traditional financial literacy programs that you may or may not be aware of, Ally's Wallet Wise has an in-person component that allows those that sign to take courses at participating locations near them.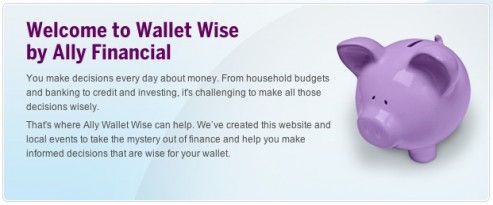 According to the bank's spokesperson Beth Coggins, while the program is currently only available in Georgia, Michigan, North Carolina and Texas, it will eventually expand to other areas across the country. The program is a spinoff of GMAC's SmartEdge program, which was created in 2002 and reflects the most current personal finance information and resources available to consumers today, Coggins added.
"Understanding the basics of personal finance is a top priority for many consumers" said Coggins in an email. "We hope that those who attend either the community-based sessions or take the courses online can use the information learned and apply it to their own personal finance challenges and goals."
While the Ally Wallet Wise program launched with sections on credit, budget and banking & investing, the program will expand to include additional coursework on automotive and home finances, says Coggins.
Ally Wise Wallet Gets a Test Drive:
The first online chapter available on Ally's Wise Wallet program is a course on budgeting, and lays out how to separate your wants from your needs, prepare a budget and how to stick to the budget you've created for yourself. The chapter also includes a downloadable worksheet to guide you along the way.
The second online chapter is a course on banking and investing. This section basically helps consumers determine what kind of bank is right for them and the best way to proceed for those interested in investing. What's nice is that Ally doesn't try to sell you too hard on the merits of online banks versus other types of financial institution such as thrifts, retail banks and credit unions.
Similar to the other two chapters, the third section on credit also provided information about credit cards, credit reporting, and the ways your credit score can positively or negatively impact your ability to obtain a job or a home. The chapter, similar to the first two, ends with an online quiz.
If you're an Ally customer that wants to take control of their finances, make sure to visit Ally Wallet Wise online to find out about the program or to find financial literacy workshops in your neighborhood.
Carolyn Okomo is a personal finance writer and the Tuesday columnist for MyBankTracker.com. You can follow her tweets @CarolynMBT..
UPDATE:
While Ally Wallet Wise's community-based sessions are currently scheduled in only four states, the company plans to add more sessions across the country.
Ask a Question