MyBankTracker.com Interview with Card.io Co-founder Mike Mettler
Late last month we filled you in on a company called Card.io, which at the time received a $1 million round of investments to fund its mobile payments platform.
Card.io, a company that develops software that allows for mobile payments simply by taking a picture of your card, has been on a winning streak so far. The company was recently named as one of 16 finalists in the MobileBeat 2011 Startup Competition and is now in the running to receive a Telsa award, which for over 20 years has been awarded to individuals that have made advancements in the use of electric power since 1975.
One of Card.io's co-founders, Mike Mettler, recently took the time out of his schedule to answer some questions about his company. While Card.io isn't currently fundraising, Mettler said it the company is more focused on improving its service and reaching more mobile developers.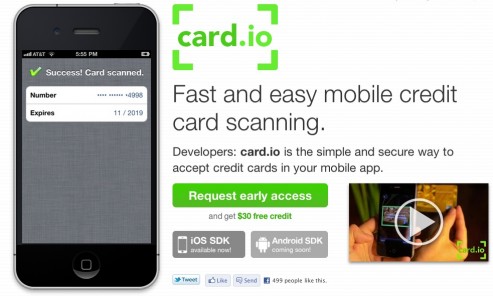 Card.io was recently named a finalist in the MobileBeat Venture Startup Competition. How did that feel to receive that honor?
Mobile payments solutions have typically required either hardware dependencies or user behavior change. We built a software-only service that uses credit cards, a payment method familiar to nearly every customer. We were pleased that MobileBeat also recognized this!
You and your partner Josh Bleecher Snyder began developing the company as way to transition e-commerce from the web to mobile. What were some of the biggest challenges you both faced in the process?
We faced two challenges: technically, it's very difficult to build fast and performant learning systems to read credit cards. We spent about six months working to make sure that the service was accurate and fast. Secondly, hiring was very difficult: as a startup, our biggest asset is people, and we've spent a lot of time recruiting amazing engineers to join the team.
Your company is currently working with companies like MogoTix, TaskRabbit and SamaSource. Who are some developers you plan on working with in the future?
There are a number of spaces where we're focused, including events and ticketing, local services, daily deals, travel, and e-commerce.
What improvements or new services can we expect from Card.io in the future?
We're working on an Android SDK, so stay tuned!
Mobile banking has picked up a lot of steam in recent years, especially with the invent of mobile banking applications by U.S. financial institutions. Has Card.io considered moving into the financial services realm in some capacity?
For now, I think our biggest differentiator and value-add is as a technology company, and that's what we do best. We haven't considered moving into the financial services realm directly, but it could be a place we look to partner in the future.
Read: Card.io Challenges Mobile Payments Market with Software-based Platform
Ask a Question