Ally Bank Establishes Hive Mind on Facebook
Ally Bank draws on the users of Facebook to collect feedback on how it can enhance customer satisfaction.
Ally Bank invites customers to provide suggestions and ideas that they believe would improve the overall banking experience.
In a Facebook site application called "Ally Idea Share", users can contribute their thoughts on how to enhance Ally Bank's services. Mobile banking, communication suggestions, and futuristic banking are among the main topics for ideas.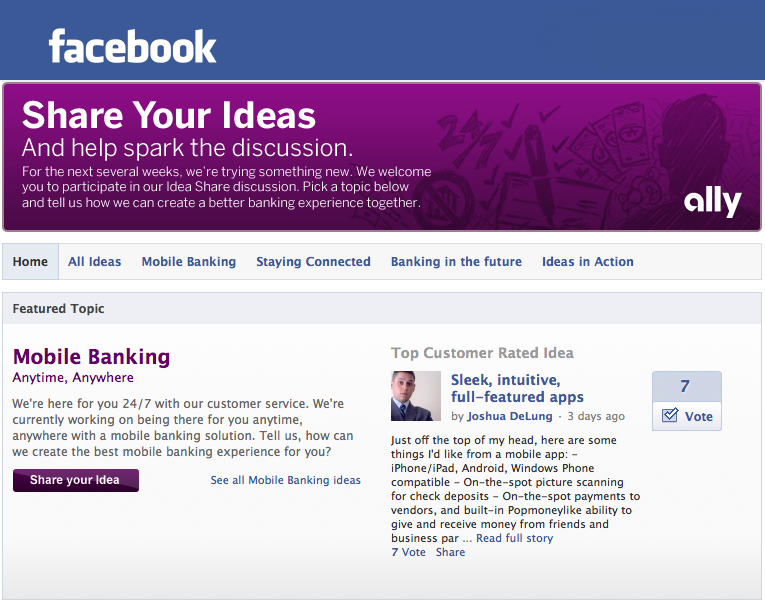 After writing an idea, other Facebook users are able to comment and vote on the idea. Ally Bank intends on placing focus to bringing the most voted suggestions to market.
Currently on the Facebook page, the most popular idea includes a call for full-fledged mobile applications for popular iPhone and Android smartphones with the highly-demanded mobile check deposit feature.
Other ideas include: implementing account activity analytics, tweaking ATM transaction limits, and better management to the Ally Perks debit card rewards program.
Past ideas that have become reality include:
Longer lists of past transactions.
Ability to nickname accounts.
A better password assistance system.
A shorter account application process.
Basically, "Ally Idea Share" utilizes the Facebook platform to set up a think tank so Ally Bank can better cater to its customers.
All Facebook users, whether or not you are an Ally Bank customers, can share their ideas and up-vote other suggestions. You will be required to permit "Ally Idea Share" to access your basic information.
Ally Bank has recently been boosting its competitive edge with a plethora of new products and services that have launched in recent months. They included IRAs, a merchant-rewards program, and scanner-based check deposits.
Read: Ally Bank Races Ahead With IRAs, Ally Perks, eCheck Deposit
Ally Bank has a strong social media presence for a banking institution, with an active community on its Straight Talk Blog, Twitter, and Facebook. They've been stages for customers to voice their feedback. With "Ally Idea Share", the online bank opens a campaign on the world's most active social network for everyone discuss new ideas.
Ask a Question