BBVA Compass Offers P2P Payments via Fiserv ZashPay
BBVA Compass Bank introduces a P2P payment service so customers can send money with ease.
BBVA Compass (NYSE: BBVA) has launched Simple Personal Payments, a way for customers to send and receive personal payments. The service is made possible through a partnership with Fiserv (NASDAQ: FISV), provider of the ZashPay person-to-person payment service.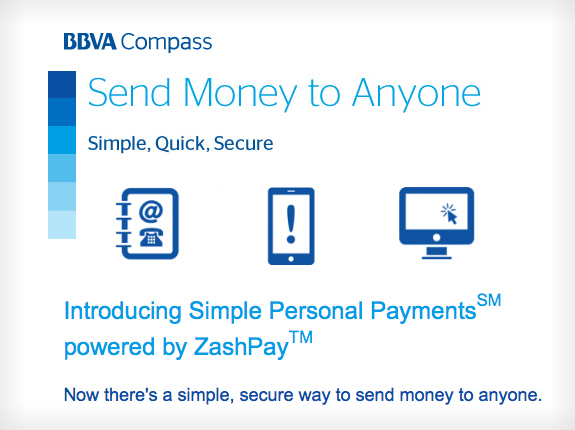 Simple Personal Payments lets a customer pay another person by entering the recipient's e-mail address or mobile number. Such services are handy for situation such as splitting a dinner bill, paying the babysitter, sending cash to a college student, or pitching in for a gift.
It rules out the need to carry cash, write checks, or traveling to the bank to deposit funds for transfer.
"An important and growing segment of our customers are demanding payment options that help them simplify their lives," said Andy Hernandez, director of channel development for BBVA Compass, in a press release.
"With ZashPay supporting our Simple Personal Payments(SM) service we have responded to this demand, expanding the functionality of our customers' online banking experience by making everyday persona financial tasks quicker and easier."
BBVA Compass customers must sign up for Online Bill Pay to activate Simple Personal Payments. After registering, a program can be accessed through the online bill payment system. Provide the recipient's e-mail address or mobile number and the amount you wish to send.
The recipient will receive a notification by email or text message to collect the money by providing their own bank account information.
There is $1 fee for every payment sent but it is free to receive money.
Simple Personal Payments would make for a great addition to the native BBVA Compass mobile banking applications already available for popular iPhone and Android smartphone devices. The service would allow customers to easily send money wherever they are and whenever they needed to do so.
Currently, the P2P payment service is not a feature on the bank's mobile apps.
A BBVA Compass spokesperson did not reply immediately to request for details on the possibility of Simple Personal Payments arriving on the bank's mobile apps.
Ask a Question