Delta SkyMiles Credit Card Challenges Industry
American Express and Delta Airlines jointly announced two new benefits today for their Small Business Delta SkyMiles®Credit Cardmembers showing once again the extreme value of perks and benefits in the high-cost air travel industry.
We always used to think that when searching for flights, it's all about the miles. People try to stick to an airline so one day they will reach that coveted marker where they can finally take a free vacation. However, Delta Airlines (NYSE: DAL) wants consumers to use their American Express (NYSE: AXP) card not just for the miles, but now for priority boarding and in-flight savings.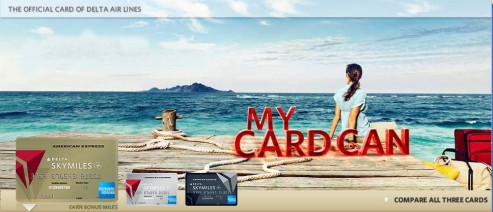 Starting September 1, Gold and Platinum Delta Credit Cardmembers will enjoy priority boarding on Delta flights allowing them to get on the plane first and have enough overhead room for all of their baggage. Anyone who is included in the reservation will receive those perks (including a free checked bag).
"We continue to build a better travel experience for Delta SkyMiles®Credit Card Cardmembers and these new benefits are significant wins for the customer," said Jeff Robertson, vice president, SkyMiles, Delta Air Lines. "Now in addition to checking a bag at no cost, customers can enjoy early boarding which results in stress-free stowage of carry-on bags and discounts on in-flight purchases – both of which are priorities for our co-brand customers."
Pull of the airline credit card
With all the partnering up between credit cards and airlines, you have to be even more careful when booking a ticket. No longer do people go online and look up the cheapest flight because even though you might save a few bucks off the ticket cost, you are paying more for not receiving miles. That is why Delta wanted to throw another element into their perks system with priority boarding for cardholders, even if you're not a "gold" member.
They challenge American Airlines' newfangled system of boarding members based on when they checked in at the gate (after first-class and executive-class passengers), which caused "complete chaos" according to flight attendants responsible. But they have their own partnership with Citi (NYSE: C), while United Continental Holdings chose Chase (NYSE: JPM). These exclusive partnerships will help make people more loyal to their airlines and banks.
They offer similar terms for their respective airline credit cards including two miles for every dollar spent on airfare and additional miles when you reach a certain spending threshold. The annual fee, APR, and rewards structure of the SkyMiles Card is comparable to other airline travel rewards credit cards, so make sure you Delta be your go-to airline before you get the card.
Ask a Question