Hurdles in the Adoption of P2P Payments
Something so convenient, something so simple, is useless if people don't start using it.
An increasing number of Americans are getting access to person-to-person (P2P) payment services as more banks and financial institutions begin to offer them.
Yet, I haven't successfully completed a P2P payment with any family members or friends – and most of them have smartphones. It's quite surprising for a technologically-adept generation in a busy city such as New York City.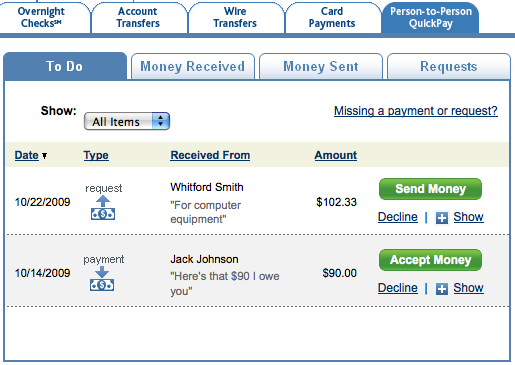 After a celebratory dinner for a friend's July birthday, the group decided to funnel their shares of the bill onto a single person's credit card. When everyone else pulled out cash and started sorting out the exact amount to repay this friend, I found it to be an ideal situation to utilize P2P payments.
Both of us had Chase checking accounts and iPhones. Using the Chase QuickPay feature on the mobile app would seem to be a no-brainer.
I can simply enter his e-mail address or phone number and the amount I want to send him. On his end, he'll have to provide his information and bank account number to claim the funds. Because we use the same bank, the money should arrive the next day (usually takes longer between different banks).
But, even after persuading him to try Chase QuickPay, he preferred cash.
Convenient for the Sender, Not for the Recipient
The lack of smartphone is not a major setback for the adoption of P2P payments since the service is often available online, as long as one has an e-mail address. Touted as a convenient, cash-less, and check-less solution to personal payments, what the service counts out is the experience of the recipient.
A sender spends all but 30 seconds to issue a P2P payment. Meanwhile, recipients have to do a little work to collect what they're owed.
They must provide sensitive personal and bank account information to claim the money. Because most people don't remember their bank account numbers by heart, it means recipients don't often claim their funds until they get home. Then, they have to wait for it to show up in their accounts.
If a bank uses another company to power its P2P payments (such as CashEdge's Popmoney or Fiserv's ZashPay), recipients may be concerned about the security of their information. Reluctance to drift away from traditional, trusted payment methods is understandable as cash and checks are tangible forms of payment – free of worries of data breaches – that many Americans have relied upon.
Finally, some P2P payment services charges a fee per payment sent, which deters senders from using them.
Until the banking industry can unify to eliminate the need to enter recipient information and to cut costs, the P2P payments revolution will encounter friction. The largest U.S. banks – Bank of America®, Wells Fargo, and Chase – are working on such a project called clearXchange that would likely make that a reality.
In the meantime, I'll stick to being a proponent for this service on my search for the next opportunity to complete a successful P2P payment.
Follow Simon in the MyBankTracker.com Community and on Twitter: @simonzhen.
Ask a Question