New Calculator Tells You if You Can Afford A Child
Before you start listening to your biological clock, take a moment to calculate whether or not you're ready to add a new member to your family. This new calculator created through a partnership between Johnson & Johnson and Citi Bank helps see approximately how much you will be spending on a child yearly.
If only we knew this calculator was coming out before we wrote the article, Northeasterners Spend $80K More to Have Families, it would have made the calculations much easier.
Banks are there for you to plan most large purchases in your life; cars, homes etc. So why not help budget for children? This calculator is super simple to use all you need to do is answer 5 questions:
Where do you live?
Are you a single parent?
What's your annual household income?
How old is your child?
Will you pay for your child's college education?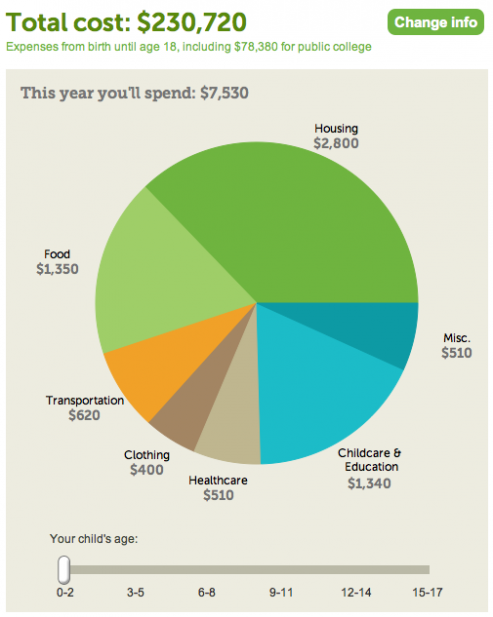 This tool is aimed at helping moms make financial decisions to prepare for having a child. They even break down a five-step test you can use to see if you can afford to have a baby.
Calculate the cost. With this calculator you can already get started on figuring out how much you will need each year so you can start budgeting out money.
Consider if you are saying at home. Even if you figure that you can afford a child on your income think about whether or not you can afford to stay at home. A lot of moms plan to go back to work, but end up extending their stay at home. The website also points out that you should consider whether or not you will keep insurance and how difficult it will be to re-enter your field of work.
Cut yourself off from spending. If you are already planning on having a child, then live financially as if you already have one. Jean Chatzky of BabyCenter.com suggests you live as if you are on one income even if you have not had the child, and just save all the money made off the second income.
Figure out any tax breaks. Not everything about having a baby is a financial burden, you can claim the child tax credit and receive up to $1,000 a year and also individuals can claim a $3,500 exemption for each dependent.
Include college in the costs. College is probably one of the biggest financial hurdles to overcome as parent and family. There are many options for student aid, and other help for covering costs, but you also have to think about your own retirement.
Ask a Question