BBVA Compass Introduces Prepaid Debit Card
The prepaid card market continues to grow as more U.S. banks such as BBVA Compass launches prepaid debit cards as alternatives to checking accounts.
BBVA Compass Bank (NYSE: BBVA) now offers the BBVA Compass SafeSpend Card, a reloadable prepaid Visa debit card.
For a $4 monthly service fee, the SafeSpend Card carries features such as direct deposit, online banking, bill payments, email/text message alerts, unlimited PIN and signature purchases, and funds are insured by the FDIC.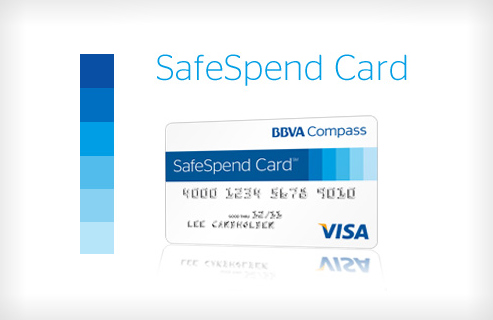 Funds can be deposited through direct deposit, by transferring funds from a BBVA Compass debit card, or by adding money at a Visa ReadyLink retailer.
There is no charge to reload funds or perform a balance inquiry at a BBVA Compass ATM but there is an initial loading of funds charge of $4 and withdrawals at BBVA Compass ATMs cost $1 each. However, SafeSpend cardholders won't be able to do much in-branch banking or write checks.
Like all other prepaid debit cards, the SafeSpend card requires no inquiry on credit history or ChexSystems reports. This allows those with tarnished credit reports or banking histories to make purchases and bill payments with a debit card.
Also, prepaid debit cards are ideal for teens and young adults looking to getting their first payment cards as they can help control spending. Users cannot spend more than they have in the account, which obviously means overdraft charges don't exist on the SafeSpend card.
"The SafeSpend Card is a great money management tool for parents who aren't ready to give their kids credit or debit cards," said Jon Mulkin, Director of Consumer Segment Group at BBVA Compass, in a press release. "We also expect the card to be popular among people who want to designate their spending money for special purchases like vacations."
Read: Study: Prepaid Cards Offer Fewer Fees Than Checking Accounts
BBVA Compass Bank's two other low tier checking accounts charge significantly more. The Build-to-Order Checking account has a $8.95 monthly fee that can be waived if certain requirements are met. The Basic Checking account, catered toward those who've been turned down for checking accounts, charges a $11.95 monthly service fee.
Ask a Question