Saving at ING Direct vs. Ally Bank, Revisited
Choosing between the ING Direct and Ally Bank continues to be a heated, never-ending debate that continues to evolve and change with time.
Launched two years ago in 2009, Ally Bank entered a market that was arguably dominated by ING Direct. Since then, the top two names in online banking have been pitted together when consumers research the "best online bank" for them.
In July of 2009, MyBankTracker.com put the two banks head to head and, two years later, there remains no clear winner, even though both banks have grown and made major improvements in the meantime.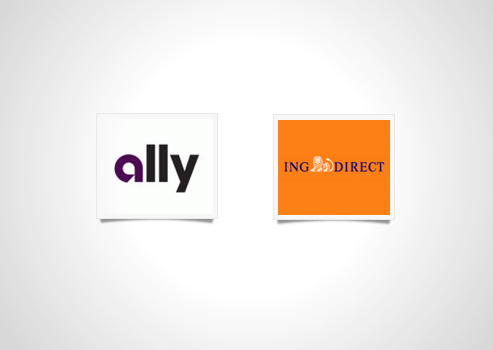 Online Savings, CDs, and Interest Checking
Generally, ING Direct and Ally Bank offer a very similar class of products. All of them do not carry any monthly fees or require any minimum account balances.
Their online savings accounts are very similar and relatively intuitive for savers. They allow customers to create sub-accounts with nicknames for specific savings goals and purposes.
Ally excels in the certificates-of-deposit arena with not only higher interest rates, but also more versatile CDs such as No Penalty CDs and Raise Your Rate CDs. Additionally, Ally has a generous 60-day interest penalty on early withdrawals while ING's penalties may vary from 3-6 months of interest.
Here's some of their interest rates compared:
| Product | ING Direct (APY as of 8/8/11) | Ally Bank (APY as of 8/8/11) |
| --- | --- | --- |
| Online Savings | 1.00% | 1.00% |
| 12 Month CD | 0.75% | 1.19% |
| 24 Month CD | 0.75% | 1.37% (one rate increase) |
| 36 Month CD | 1.00% | 1.70% |
| 48 Month CD | 1.00% | 1.90% (two rate increases) |
| 60 Month CD | 1.25% | 2.30% |
Both online banks offer interest-bearing checking accounts that have been become viable alternatives to checking accounts from traditional banks, which have trended away from offering free checking.
The fact that customers can earn interest may be very attractive but their tiered interest rate structure may not be fit for everyone. Instead, the perks play a major role in their appeal.
| Product | ING Direct (APY as of 8/8/11) | Ally Bank (APY as of 8/8/11) | Features | ING Direct | Ally Bank |
| --- | --- | --- | --- | --- | --- |
| Online Savings | 1.00% | 1.00% | APY (as of 8/5/11) | As much as 1.15% APY | As much as 0.90% APY |
| 12 Month CD | 0.75% | 1.19% | Free debit card | Yes | Yes |
| 24 Month CD | 0.75% | 1.37% (one rate increase) | Free online bill pay | Yes | Yes |
| 36 Month CD | 1.00% | 1.70% | Paper checks | Must pay to order | Free (unlimited) |
| 48 Month CD | 1.00% | 1.90% (two rate increases) | ATM access | Free at 35,000 ATMs nationwide (Allpoint ATM network) | Free at any ATM |
| 60 Month CD | 1.25% | 2.30% | Debit card rewards program | None | Merchant-funded |
| Overdraft protection | Line of credit | Coverage by linking Ally savings/MMA | | | |
Overall, Ally's checking account appears to be the more comprehensive option despite the opportunity to earn more interest with ING Direct.
The Technology Frontier
Consumers are becoming increasingly technologically-adept so online and mobile banking services can sway them towards different banks. Although both ING Direct and Ally Bank have intuitive online account interfaces, ING Direct is the leader in the mobile space.
ING Direct has an encompassing mobile banking app for iPhone, Android, and BlackBerry devices while Ally doesn't have any. On the other hand, Ally has launched a scanner-based check deposit service, which ING Direct is also about to release.
ING has also said that it will be introducing mobile check deposits for its mobile apps in the coming months – a huge jump on the scoreboard against Ally.
But, the lucrative sell from mobile apps has not eluded Ally, which is bound to be developing dedicated mobile banking apps for its customers – we just don't know how long it'll take.
Miscellaneous
The quality of customer service can make or break a deal for any company, especially for one that holds people's money. Luckily, both banks have been praised for delivering exceptional levels of customer service, with plenty of attention given to users on social networks such as Facebook and Twitter.
Currently, ING Direct and Ally Bank are stable institutions touting great bank health. On MyBankTracker.com, they are among the top rated banks from hundreds of bank reviews.
The biggest headline in the online banking sector as of late is the sale of ING Direct to Capital One. Many ING customers offered predictions that Capital One would ruin the legendary online bank, despite no mentions of how ING Direct will change if at all.
The One for You
With such similar characteristics, either ING Direct or Ally Bank are great places to save – that's why they've been so popular.
As these banks release more and more new products and services – primarily in the tech department – the tides can change vastly.
The everlasting battle boils down do what the consumer prefers. Those seeking higher rates with great perks will find Ally Bank to be a great fit while those looking for no-frills competitive yields with mobile banking convenience would like ING Direct.
Ask a Question