Capital One and Junior Achievement's Financial Education Game Goes Virtual
As more and more people would agree, teaching your children about personal finances at an early age is vital to ensuring their financial stability much later down the road. For children that like to play video games, Junior Achievement's JA Finance Park Virtual offers a great solution.
According to survey results from Capital One Financial Corp. (NYSE: COF), more than half of teens that play video games say those games are sometimes educational, while more than 76 percent of the young people polled believe educational games are a good way to learn. Because of this the bank and an organization called Junior Achievement, a nonprofit that builds financial literacy curriculum for high school and middle school students, created a virtual game called JA Finance Park Virtual, which is basically an online version of a similar programs both companies run around the nation.
Read more: MyBankTracker.com Joins Junior Achievement to Promote Financial Literacy
"Financial literacy is a critical life skill for everyone, with something to learn at every age, but research shows that many students don't understand the basic principles of personal finance, and this can impact their future success," said Junior Achievement's president and CEO Jack E. Kosakowski in a statement announcing the new game. "The hands-on practical money-management skills provided through JA Finance Park Virtual are applicable to real life situations and help students set and reach financial goals both now and as adults."
JA Finance Park Gets a Test Drive:
The game first prompts you to choose what you'd like your own particular life situation to be. For my living situation I chose to have a beachfront condo with modern furniture and an indoor gym, drive a convertible, and have high-speed internet and standard cable. In addition to other expenses, my monthly expenses came out to just over $2,100.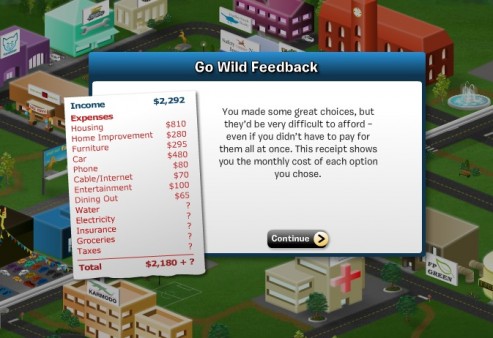 According to the game, the average high school graduate makes $27,500 annually, meaning they'd have $2,292 per month to spend. My current budget was already going to set me back more than 95 percent of my monthly income, which didn't take into account what I would need to pay for water, electricity, home insurance, groceries and taxes. So far, I was off to a pretty bad start.
Here's where the game turns into a lesson in that magic "B" word: budgeting. Since my budget is clearly becoming something of a problem, I then turned to my virtual financial guide, Casey, whose job it is to show me around JA Financial Park. Upon entering the park I then receive a new identity, which includes a new job, a salary and a budget to better help me manage my expenses. The game turned me into a 31-year old inspector for the Food and Drug Administration with no spouse or children. I also have a bachelor's degree in medical science from State University. My gross annual income is $50,760 and my monthly federal income tax is $213. My social security taxes are $128, while my monthly medicare taxes are $85.
Similar to the organization's real life financial park, the game walks you through exercises in budgeting and planning. My virtual guide Casey helped walk me through all the various stores in Finance Park and helped to make financial decisions to guarantee I stayed within my designated budget based on my monthly net income. At different points along the way I had to readjust my spending and cut out purchases I may have really wanted (for example choosing to purchase a minivan versus a sports coupe) but couldn't afford. And, the JA Finance Park Virtual is points-based, so the faster and more accurate your choices are the more points you'll earn.
If your high school or middle schooler enjoys computer games and wants to learn about personal finances then definitely consider introducing them to JA Finance Park Virtual. Click here to try the game for yourself. And, for more information about Junior Achievement visit the organization's website. And, view the video below for more information.
Carolyn Okomo is a personal finance writer and the Tuesday columnist for MyBankTracker.com. You can follow her tweets @CarolynMBT.
Ask a Question