Chase Rolls Out Merchant Rewards through Debit Card Ultimate Rewards Program
Will they or wont they? The question on many Chase Debit Card holder's mind as the bank toyed with the idea of getting rid of their Ultimate Rewards Program. Well we have good news for you guys: they wont get rid of the program, sort of.
In mid-March the company stunned and upset loyal customers when they announced a plan to end the Chase (NYSE: JPM) Debit Card Ultimate rewards program. The move was prompted by the institution to prevent an expected loss of revenue due to the Durbin Amendment's proposed debit fee caps.
Read: Chase Debit Card Ultimate Rewards Program (Un)Officially Over
Just as customers began their hailstorm of comments, Chase put their proposal on hold as the government moved to delay the enactment of the interchange law. This hold didn't last long as the bill was voted back into motion and Chase announced a July 19 termination.
Then the Fed surprised everyone with announcing a 21-cent cap, a big improvement over the initial 12-cent cap announced.
Check Out: Fed Raises Debit Swipe Fee Cap to 21 Cents

Although the traditional Ultimate Rewards Program, where you could earn cashback on every purchase, ended in July, Chase is still attempting to revive some sort of customer-merchant program. Chase has emailed certain Debit Card Customers to highlight their latest Ultimate Rewards Points offers going on through September 30, 2011.
An important thing to note is different customers are receiving different offers based on spending habits. For example: some debit card holders may see an email containing just a few offers while others may see an email containing as many as nine. See below: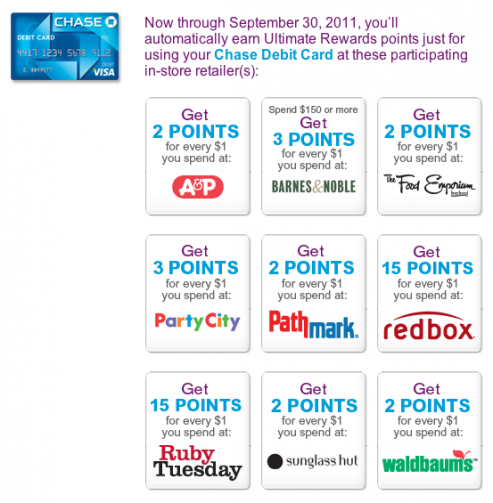 Another benefit to this program is as of now, Chase is not capping how many rewards points customers can earn on their purchases. Chase offers the opportunity to earn even more chances to earn Ultimate Rewards Points when you log on to the Ultimate Rewards website. Not all customers have received an email highlighting this opportunities which indicates that Chase is still testing out the program.
Ask a Question