Visa Outlines Plans to Push EMV Chips in the U.S.
The world's largest card payments processor is instituting initiatives to expedite adoption of EMV chip technology.
Visa (NYSE: V) is putting a firm footing on demands to accelerate the transition from magnetic-strip cards to EMV contact and contactless chip technology in the United States. The card processing giant hopes that it will compliment the arrival of NFC-based mobile payments.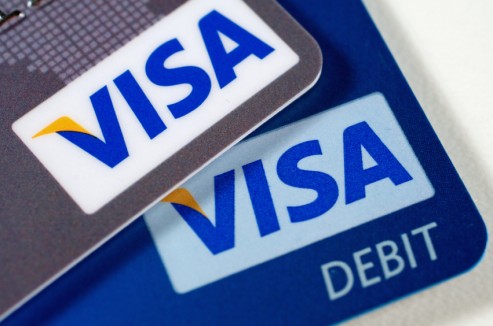 EMV chips utilize dynamic authentication to secure every unique transaction on a payment card. Criminals who steal card payment data won't have enough information to commit fraud. Many foreign countries have disposed of and stopped accepting the traditional mag-strip cards due to rampant card skimming. The U.S. is one of the largest developed nations that has not yet switched to EMV.
Read: U.S. Bank: First to Launch Dual EMV Chip and Contactless Credit Card
"By encouraging investments in EMV contact and contactless chip technology, we will speed up the adoption of mobile payments as well as improve international interoperability and security," Jim McCarthy, global head of product at Visa Inc., said in a press release.
Near field communications (NFC) has been a hot topic as the American population becomes increasing dependent on their mobile devices. NFC-enabled devices house chips that are capable of transmitting payment data when phones are held in front of a payment terminal. The technology offers the next level of convenience – cutting out the need to carry physical cards.
Read: Visa Launches Next Generation Digital Wallet Service
"As NFC mobile payments and other chip-based emerging technologies are poised to take off in the coming years, we are taking steps today to create a commercial framework that will support growth opportunities and create value for all participants in the payment chain," McCarthy added.
EMV Chip Adoption Timeline
Starting October 1, 2012, Visa's Technology Innovation Program will not require certain merchants to validate their compliance with the PCI Data Security Standard in any year that they log 75% of their Visa transactions on chip-enable terminals that accept both contact and contactless chips.
Visa will require all U.S. processors to be able to support merchant acceptance of EMV contact and contactless chip transactions by April 1, 2013.
Finally, Visa will shift fraud liability to merchants that do not deploy securer chip terminals. Card issuers are currently responsible for fraudulent activity. Beginning October 1, 2015, merchants may be liable for domestic and cross-border counterfeit card-present point-of-sale transactions if the don't adopt contact chip terminals at a minimum. Fuel-selling merchants (gas stations) have two additional years to comply before the rules affects them.
The liability shift will provide financial incentive for merchants to offer secure payments with dynamic authentication, which protects and saves money for processors, card issuers, merchants, and consumers.
Ask a Question