The start of the school year is just around the corner so it's crunch time when it comes to getting student finances in order.
In a couple of weeks, college campuses will begin filling up as a new class of students embark on the next step in their academic careers. One of the top concerns for parents is picking the right student checking account so that their kids can have access to money when they need it.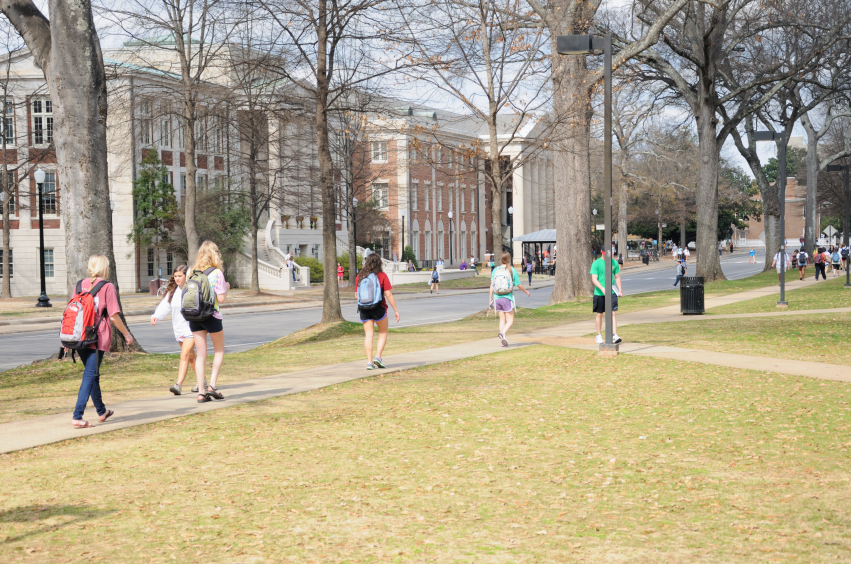 MyBankTracker.com has compiled a brief overview of the student checking accounts that are available at the ten largest banks in the U.S. – one of which are likely to serve a college campus.
Read: Find the Right Checking Account For Your College-Bound Kid
Here are the student checking options at the ten largest banks in order by size (by deposits as of 6/30/10 according to the FDIC):
Bank of America
Marketed also as a student checking account, the eBanking account is the bottom-tier checking account offering from Bank of America that operates like a standard checking account with a focus on self-banking. The monthly fee of $8.95 when the student opts for electronic statements and does not use a bank teller for transactions. There is no cost to use Bank of America ATMs.
Because younger generations are becoming more familiar with technology, it is well within their realm to conduct the majority of their banking transactions online, on a mobile phone, and at the ATM – and avoid the monthly fee.
The eBanking can be opened by anyone who is at least 18 years old.
Wells Fargo
The Wells Fargo College Checking account carries a $3 monthly service fee but that charge is easily avoid by confirming student status by providing details on the school's official campus ID card. It is free to use Well Fargo ATMs but not out-of-network ATMs.
The account will remain a College Checking account for 5 years, after which it will be converted to a basic checking account (with different fees and terms).
Chase
Chase College Checking is eligible for students ages 17-24 years old and enrolled in college. The $6 monthly fee is waived until graduation (for up to five years after account opening) or whenever the account posts a direct deposit.
The account becomes Chase Total Checking after students graduate.
Citibank
The Citibank Student Account is free for college and graduate school students for as long as they're enrolled in an accredited institution. One great perk of the account is free use of non-Citibank ATMs, which is convenient for students who tend to need cash spontaneously.
After the expected graduation date, the Citibank Student Account will rollover to a basic checking account (which may have different fees and terms).
PNC Bank
Without a dedicated student checking account, college students can opt for the Free Checking account from PNC Bank. However, after September 12, 2011, PNC will stop refunding Free Checking customers for non-PNC ATM fees.
U.S. Bank
Student Checking from U.S. Bank is a simple, free checking account for students enrolled in high school through college. It offers four non-U.S. Bank ATM fee reimbursements per month.
On accounts opened over 5 years, accountholders must be under age 25 or the account will be converted to Easy Checking, which has a monthly fee that can be waived.
TD Bank
TD Student checking comes with no monthly fee or required minimum balance. One overdraft fee is refunded per academic year.
Proof of active student status must be provided. The student benefits of the account will expire after five years.
SunTrust Bank
SunTrust Student Checking is a free checking account available for students enrolled in college. SunTrust will not charge a fee for the first two non-SunTrust ATM transactions per month and there is a one-time fee waiver on an overdraft item.
Student Checking will automatically convert to Everyday Checking when the student graduates or after 5 years from account opening, whichever comes first.
BB&T
BB&T Student Banking is a free checking account for students ages 23 and under. In addition to a debit card with cash back rewards, accountholders get four no-fee non-BB&T ATM transactions per month and a one-time fee refund on a returned item, overdraft, stop payment, money order, or official check.
BB&T Student Banking will change to Bright Banking on the student's 24th birthday.
Regions Bank
Regions Bank offers LifeGreen Checking for Students with no monthly fee. There is a $4 fee in every month that the debit card is used for a non-ATM transaction.
The LifeGreen Checking for Students account will become LifeGreen Checking after five years or on the 26th birthday, whichever comes first.