USDA Reports Cause Confusion for Future Food Prices
It seems like there are some conflicting reports about the demand for corn, which largely determines the price of food. Though there is a generally accepted feeling of doom for the food market, farmers are expecting a big crop.
This pervading sense of despair has caused many investors to give up hope that the prices will ever level out. But data from the U.S. Department of Agriculture has led to some widely different conclusions, leaving confusion about whether prices are expected to go up or down.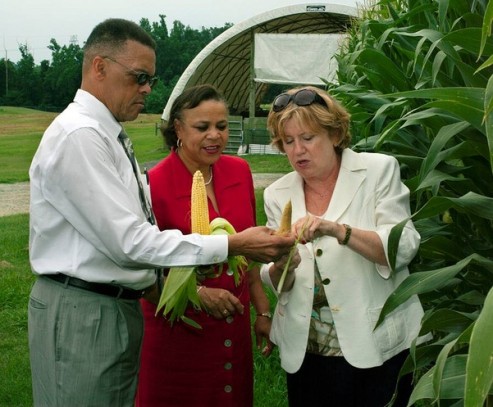 *Dr. Shirley Heymon-Parker and Dr. Ralph Nobel at at the North Carolina Agricultural & Technical State University in Greensboro, NC. Photo belongs to USDAgov's Photostream
The extreme weather that we've seen this past year including flooding and drought that has affected much of the country is expected to continue battering this year's corn, soybean and wheat crops, which leads to higher prices for manufacturers and consumers. This has wide-ranging effects on food products from soda to pasta to meat.
Read: Consumer Price Index Falls in June
High commodity prices will translate into higher meat prices because the cost of feeding cattle, pigs and poultry with grain will go up. Pasta prices are expected to go up as well because of flooding in North Dakota. Ultimately, the New York Times concluded, "Expect to pay more for pasta, meat, vegetable oil and many other consumer products in coming months."
However, it's hard to get a grasp on exactly where the price of corn will be driven due to polysemous data. According to Thursday reports from the USDA, corn production is forecast at 12.9 billion bushels, up 4 percent from 2010 and potentially the third largest production ever recorded.
Although large, corn yields are expected to average 153 bushels per acre, up 0.2 bushels from 2010, but down from nearly 159 bushels reported in the previous forecast.
A Suprising Surplus
Furthermore, the USDA also reports that farmers expect a 940 million bushel surplus when the harvest begins in the fall. Shockingly, this is even higher than last month's estimate of 880 million bushels. This surplus is one of the main determinants for the price of food, and there is usually a lag of around six months between a change in the price of corn and grocery products.
The low corn surplus caused demand for corn to become so great that farmers decided to take advantage of its unusually high price and planted this enormous crop, despite terrible heat and other extreme weather conditions. Earlier this year the USDA estimated a surplus of under 700 million bushels, which equates to around a 20-day supply, 10 days less than the desired level.
Our projected 940 million bushel surplus is enough to satisfy demand for 27 days. The USDA has yet to issue data that could rectify these seemingly conflicting reports, leaving us with the lastingfoolishly optimistic headline: "Corn Production Up 4 Percent from 2010."
Related: Taxing Bad Food Would be Disastrous
Ask a Question