Four Financial Calculators to Help You Stay On Budget
Financial calculators exist in abundance online and are useful tools that can help you instantly make long-term financial decisions without the need to do excessive math.
For many people, financial calculators can be your best friend when making important financial decisions such as what type of mortgage to pick or how much you'll need to put away for retirement. Whether you're shopping for gifts, heading to school or planning to have a baby, here are some just a few calculators that can help you out along the way and (hopefully) gear you toward making the best long-term financial decisions.
If You're Shopping for the Holidays:
Sure, it may still be August, but like every year the holiday season always sneaks up on us. If you want to make sure you stay under budget then one financial literacy organization, called Practical Money Skills for Life, has a holiday budget calculator to help you stay on task. According to the organization, financial planners recommend you spend no more than 1.5% of your annual income on holiday spending, while the average American consumer spent $941 on holiday shopping back in 2008. Getting into the spirit of giving doesn't have to mean having to go broke.
With the summer almost winding down, going back to school is on a lot of young people's minds. Of course, going back to school also means planning for all different types of expenses that may creep up along the way.
According to a recent Capital One poll, while more than half of parents believe they've adequately discussed with their school-bound children the difference between wants and needs, just over a quarter of teens said they'd discussed the difference between these two concepts with their parents. Meanwhile, about 15 percent of teens going back to school said they've created a budget to guide them with their back to school shopping.
Practical Money Skills For Life also has a useful back to school budget calculator to aid parents and students in staying on budget. The tool seems more geared towards students in high school, but also allows you to add custom fields if you college bound and want to take into account expenses like travel, dorm supplies and the like.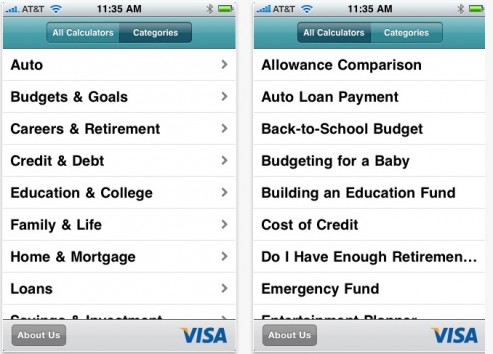 If You're Considering Having a Child:
Having a child is no cheap expense, and definitely not something you want to skimp out on. If you're considering making the leap into parenthood, then it's definitely important to get a sense of some of the expenses you'll face in the process, as we've written about before.
If you're considering having a child then you may want to consider using a new baby calculator tool created through a partnership between Citibank and Johnson & Johnson. According to the tool, parents living in the Northeast and Western regions of the United States can count on paying more than others to raise their children. According to the tool, two parents living making less than $57,260 annually combined can expect to pay $274,640 and $256,550 combined raising their child from birth until they are legal. In comparison, parents living in the Midwest or South will pay $231,170 and $240,000, respectively.
Should You Invest or Pay Down Your Debt?:
Have you recently won the lottery? Or, maybe you just received a nice bonus at work. If you're don't know whether to invest your recently-acquired cash or pay down some debt, there's also a calculator for that. According to the tool (also released by Practical Money) there's a magic rule of thumb to follow: if your after-tax return on investments is more than your after-tax cost of debt, then invest the cash.
As with any calculations, it's always a good idea to check your math. If possible, try out several different calculators to make sure your budget is as accurate as possible. Visit Practical Money's website for more financial calculators, including calculators for your phone, and also check out MyBankTracker.com's financial calculators and other tools to help you save.
Carolyn Okomo is a personal finance writer and the Tuesday columnist for MyBankTracker.com. You can follow her tweets @CarolynMBT.
Ask a Question