Americans Saving According to Chase Back-To-School Survey
Back-to-school is one of the most anticipated seasons for retailers. Chase wanted to find out just how excited they should be by surveying American consumers to determine how they plan on managing their spending and borrowing.
This is the second year in a row that Chase (NYSE: JPM) Slate with Blueprint has performed this survey specifically during the back-to-school season, and found that overall American shoppers will continue to practicing careful spending.
Saving and Budgeting
Firstly, they found that 60 percent of this year's back-to-school shoppers plan on spending around the same amount or less than last year. They are also trying to implement budgets during this season with more than half saying that having a budget would be ideal. Thirty-two percent believe it would be very helpful and 26 percent feel it would be somewhat helpful. This feeling is more prevalent among women (64 percent) than men (51 percent).
Related: Back-to-School Shopping Cheers on 2011 Sales Tax Holidays
At the same time, only 30 percent believe their personal finances and habits are improving, which makes sense since it's the same percentage found in the first back-to-school survey conducted by Chase in August of last year.
Similar to Chase's survey results, which seem to emphasize that saving has gone up, American Express (NYSE: AXP) performed their own survey and found that the average American family plans to spend $800 on back-to-school purchases this year with 67 percent planning on making trade-offs to cover these expenses. Fifty-three percent of parents plan to dine out less, 39 percent are cutting entertainment and 37 percent are doing the same for their wardrobe.
Read: Apple Vs. Microsoft: Back to School Deals
This data would seem to suggest Americans are improving their financial oversight and applying appropriate spending and borrowing strategies.
The infographic below provides a nice layout of how Americans intend on saving money during this year's back-to-school shopping season and illustrates other key findings about spending and saving.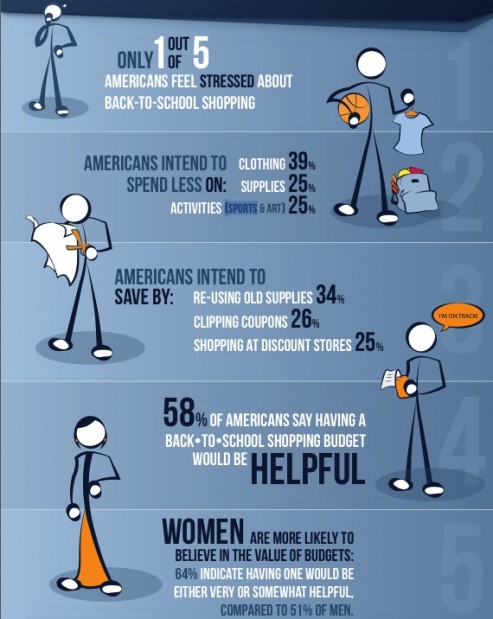 Ask a Question