Capital One Rolls Out New Credit Card For Businesses
(UPDATE: The Capital One® No Hassle Cash(SM)Premier card is no longer available.)
If you own a small business then you may want to consider opening a Capital One® No Hassle Cash(SM)Premier card, which offers its holders 2 percent cash back on every purchase made.
Capital One's cash back bonus is just one of several perks business owners that use the card can enjoy. Other features of the No Hassle Cash(SM) Premier Card include no expirations, no enrollment program requirements in order to earn rewards and no limit to the amount of cash you can earn back.
Here's a run down of some of the other benefits included with the card:
A one-time $100 bonus when you spend $1,000 on purchases within the first three months
A one-time $50 bonus for signing up one or more employees as authorized users within the 60 days of opening the card
Free employee cards that allow business owners to set spending limits
No foreign transaction fees

And, once you've earned enough rewards for a redemption you can choose to receive a check, a statement credit, make a charitable donation or receive a gift card. Business owners can also set up automatic redemptions, giving them more power over how and when they receive them.
For those unfamiliar with Capital One's roster of business credit cards the bank offers six credit cards: the No Hassle Miles, the Preferred No Hassle Miles, Business Platinum, Venture for Business and Business No Hassle Cash Premier.
Our Take:
According to Capital One, its 2 percent cash back rate is a "market leading" one, which should serve as incentive for many business owners to sign up. What could also draw other to the card is its no expiration policy, which means that you'll never have to worry about losing any of the rewards you earn if you don't use them.
Here's how Capital One says its card compares to similar ones offered by other banks: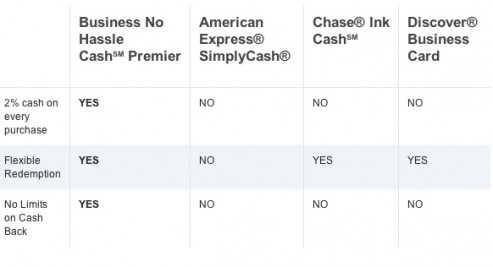 What may throw some off about the offer its the steep $59 annual fee you'll have to pay to use the card, though Capital One says it waives this fee for the first year. While some of the bank's other business credit cards do offer lesser to no fees, the ability to earn 2 percent cash back could be enough of a reason to choose the Business No Hassle Cash(SM) Premier Card.
Click here to learn more about the this card and others offered by Capital One.
Ask a Question