Citi Launches ThankYou Rewards Mobile App With Best Buy
Mobile reward point redemption is the next frontier conquered by Citi in collaboration with Best Buy.
Citi (NYSE: C) announced the launch of its ThankYou Rewards mobile app, available on the iPhone and Android devices. The ThankYou Rewards app is the first mobile app that allows for rewards points redemption.
Today, the Citi crew could be found at the Best Buy store in Union Square, New York City to announce the launch of the ThankYou Rewards mobile app. Attendees can earn 2,500 bonus ThankYou points while they experiment with the app at the store.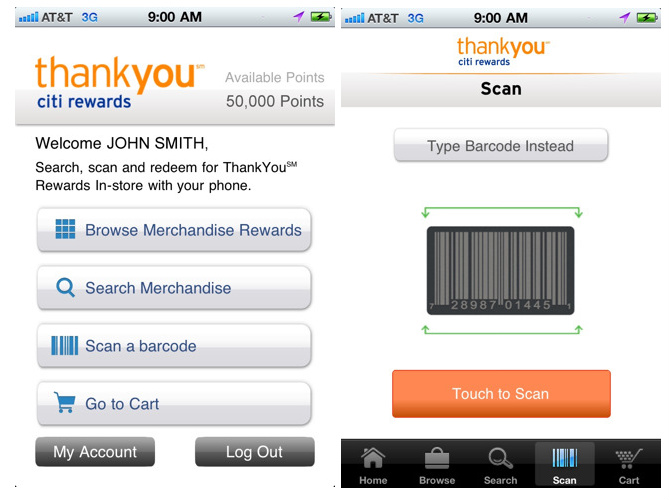 With the app, Citi ThankYou® members can use the app to scan or enter the barcodes off the items at Best Buy. Customers are then presented with the amount of ThankYou points required for redemption.
After placing the items in their "shopping cart" and completing the order, customers receive a confirmation email instructing them to head over to the in-store pickup counter for get their order or it could be shipped to their homes. Members may get special discounts when they redeem points and collect Best Buy merchandise in-store.
Directly through the app, members can also shop the Best Buy ThankYou Rewards catalog to order merchandise for pickup or delivery to their address.
Finally, users have the option to browse other merchandise available (not from Best Buy) under the ThankYou Rewards program (typically viewable online) and have redeemed items shipped to their homes.
Currently, the mobile app is focused on Citi's partnership with Best Buy. During a panel session at the event, Ralph Andretta, executive vice president of Loyalty and New Products at Citi, says that Citi would consider partnering with other retailers.
As a celebratory gesture, any Citi ThankYou® member who downloads the app at the Best Buy store in Union Square, New York City from noon to 9 P.M. will receive bonus ThankYou Rewards points.
Ask a Question