Bye, Bye Bank of America: More Layoffs on the Horizon
Just a few days after announcing a plan to sell their Canadian credit card units, Bank of America® has come out with another revenue-oriented move: Layoffs.
Bank of America® (NYSE:BAC) has seen it's share of problems in the past year not only with the financial overhaul, but with faulty mortgage assets. In July the bank reported it's biggest quarterly loss in history totaling over $8 billion or 90 cents a share.
Bank of America® to Layoff 3,500
So far, Bank of America® has reported 2,500 job reductions this year and now they have surpassed that number (and then some) with their latest 3,500 job reduction announcement.
Bank of America® Chief Executive Brian T. Moynihan sent out a company memo stating that, "There will be about 3,500 reductions in the third quarter. Notifications to the affected individuals have begun, and I expect many of you are involved in helping communicate those notifications. I know it is tough to have to manage through reductions, but we owe it to our customers and our shareholders to remain competitive, efficient and manage our expenses carefully. These reductions are in addition to about 2,500 reductions we have already made, year-to-date."
Moynihan also mentioned other moves the company is doing to try to "stay competitive" through these tough times. The end of the letter ends on a higher note, of course, stating that customers are saying "positive things" about the bank. He also mentions that a higher net income and rising stock price are sure to follow once they get through the difficult time.
We have a feeling that these words of encouragement will not do much to lift the spirits of those laid off.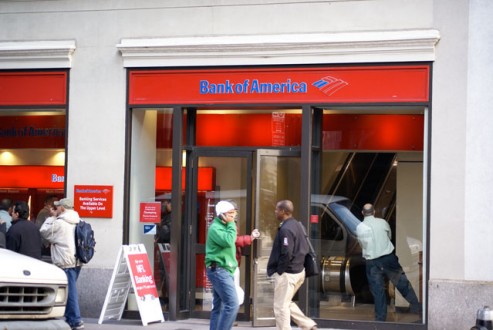 Mortgage Unit Causes Trouble
The mortgage unit contributed to these losses with a nearly $13 billion increase in loss from the previous year. Bank of America® is currently under pressure to raise at least $50 billion to conform to rules established by the Basel Committee on Banking Supervision. The rules ask that Bank of America®'s ratio of capital to risk-weighted assets has to be 9.5 percent.
Clearly, this has put the bank in a tight spot as they start to make changes that are displeasing to many. On top of their continuous layoffs, the bank has also sold their Canadian credit card division to TD (NYSE:TD) bank for an estimated total of $8.6 billion.
Check out: Bank of America® to sell Canadian Credit Card Business
Ask a Question