Consumers Can't Get Enough of American Express
Americans may have had issues with their credit card issuers back in 2009, but a new survey from J.D. Power and Associates shows that those negative attitudes have changed considerably for a number of American consumers.
The organization released results from its fifth annual study of the attitudes of American consumers towards their credit cards and found that for the second year in a row credit card customer satisfaction had increased for the second straight year in a row. At the top of the list was American Express, which has enjoyed its number one status for five years.
Some factors the company used to determine its rankings included credit card terms; billing and payment processes; rewards; benefits and services; and problem resolution. While the average overall credit card satisfaction score for 2011 was 731, American Express earned a high score of 786 on J.D. Power's scale, and did particularly well in the areas of benefits and services, credit card terms and rewards factors. Other credit card issues to do well in the study were Discover Card, which earned an overall score of 779, and Barclaycard, which ranked third with an overall score of 739.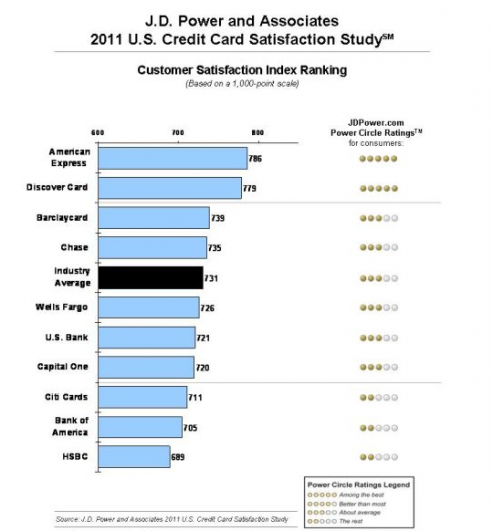 The average score earned by credit card issuers in J.D. Power's 2010 survey was 714 while the average score for 2009 was 705. According to the study, credit card customers have reported fewer problems with their credit cards, with 11 percent reporting problems with their cards this year in comparison to 14 percent in 2010. The study noted that credit card issuers have also become quicker to respond and resolve issues when they do arise, with the average credit card complaint getting resolved in 4.9 days versus 5.8 days in 2010.
Earlier this year the Pew Charitable Trusts released a report indicating that the Credit CARD Act passed through Congress in 2009 resulted in steadier interest rates and overall less penalty costs on credit cards for consumers.
Read: Consumers Find Relief In Credit Card Rules Two Years after Enactment
Do you own an American Express card and agree or disagree with J.D.'s rankings? Let us know in the comments section.
Ask a Question