AmEx Launches 9/11 Facebook Application
In commemoration of the tragic events of 9/11, American Express has launched the I WILL VOLUNTEER Facebook application, designed to connect volunteers across the country who are supporting 9/11 Day of Service and Remembrance.
This year 9/11 will fall on a Sunday making it the perfect day to spend time with those you love. However, American Express (NYSE: AXP) doesn't want anyone to overlook this solemn day and is encouraging Americans to declare "I will" volunteer and support charities in honor of the victims of 9/11 and those who responded immediately to help them.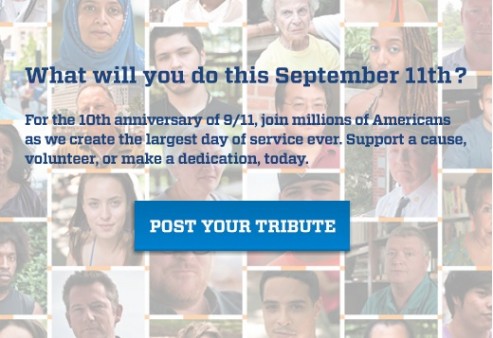 To use the I WILL VOLUNTEER app, simply visit facebook.com/americanexpress or facebook.com/911day.
Then you can search the 9/11 Day database to find volunteer opportunities nearby. If you find one you like, sign up and invite friends on Facebook to join.
The 9/11 Day of Service and Remembrance is a federally recognized initiative and is being led by MyGoodDeed and HandsOn Network, the volunteer activation division of Points of Light Institute.
Furthermore, as American Express is no stranger to utilizing social networking to promote their causes, they hope this one will see a lot of publicity and success, especially with the 10th anniversary of the 9/11 attacks to take place in just a few weeks.
AmEx is hoping to receive 1 million commitments to perform acts of service.
More than 60 organizations nationwide have already committed to hosting service projects on 9/11. But AmEx will need a lot of manpower and hundreds of thousands more people to declare "I will volunteer" on 9/11 Day to reach their goal.
This shouldn't be too outrageous: already more than 60 percent of Americans today plan on performing acts of charitable service in support of 9/11. Many of those are "new" to volunteering.
"We know people are looking for opportunities to pay tribute through service as we mark this significant anniversary, but they may not know how and where to plug in," said Timothy J. McClimon, president of the American Express Foundation. "Our goal in launching this new app with HandsOn Network is to tap in to the power of social media and give potential volunteers a direct link to service opportunities, along with the ability to sign up for and share the causes that are most meaningful to them."
Ask a Question