Earnings Rise In Second Quarter for FDIC-Insured Banks
U.S. financial institutions improved their profitability this year over last, earning $28.8 billion to their coffers during the second quarter of 2011 according to a new report issued by the Federal Insurance Deposit Fund.
According to the agency, which ensures the deposits of more than 7,000 banks and savings associations, U.S. banks boosted their profits during that period by $7.9 billion from the same period last year. The climb also represents the eighth consecutive quarter that earnings registered a year-over-year increase in profits, according to the FDIC.
The FDIC's report also showed that 60 percent of banks saw improvements in their quarterly net income from one year ago, and that the share of financial institutions reporting net losses for the quarter fell to 15.2 percent—down from 20.8 percent one year earlier.
"Banks have continued to make gradual but steady progress in recovering from the financial market turmoil and severe recession that unfolded from 2007 through 2009," said Martin J Gruenberg, the FDIC's Acting Chairman Martin J. Gruenberg, in a statement, adding that insured institutions were also beginning to bounce back.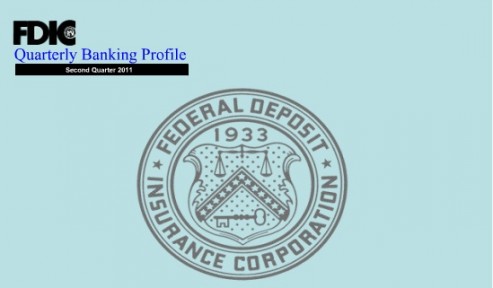 "Problem Banks" Decrease in Numbers:
The FDIC's report also showed that the number of financial institutions on its "Problem List" also declined for the first time in 15 quarters, declining from 888 to 865. The total assets of problem banks also fell by $25 billion to $372 billion, while four fewer FDIC-insured insititutiosn failed during the second quarter of this year than in the first quarter.
According to the agency's report, this is now the fourth consecutive quarter that the number of FDIC-insured banking failures has declined. During the first six months of 2011 there were 48 insured institutions compared to 86 failures in the same period of 2010. The FDIC's Deposit Insurance Fund (DIF), which covers losses associated with banking failures, was also positive for the first time in two years.
The most recent banks to fail this past week were Lydian Private Bank of Palm Beach, Fla.; Public Savings Bank of Huntington Valley, Pa.; Statesboro, Ga.-based First Southern National Bank; and Geneva, Ill.-based First Choice Bank. The four failures cost the DIF $374.8 million combined.
Read more: FDIC-Insured Bank Failure Count Climbs to 68
To learn more about the FDIC's second quarter findings read its report. And, for more information about the FDIC-insured failures that have occurred this year refer to MyBankTracker.com's failed bank map for 2011. Or, refer to the FDIC's list, which tracks failure going as far back as 2000.
Ask a Question