Fifth Third Bank Introduces DUO Card With Credit and Debit Features
Fifth Third Bank has announced the release of a new type of card they are calling the DUO Card. It gets it's name by having the ability to act as either a debit or credit card.
Fifth Third Bancorp (NASDAQ: FITB) is reportedly the first card issuer in the U.S. to combine the debit and credit card functions into one piece of plastic. The Duo MasterCards are now available. At the point of sale, customers using the Duo Card can select to make a purchase using either a line of credit or by drawing funds that are available in their checking account.
Benefits of a DUO Card
Like with any debit card, cardholders can simply choose "debit" and enter their PIN when making a purchase. They can also withdraw money from their checking account at an ATM.
Similarly, if a customer wants the card to act like a credit card they can select the credit option to make a purchase.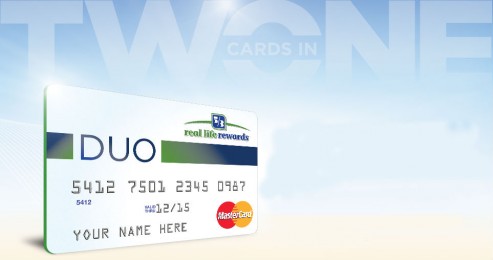 Since the card combines debit and credit, Fifth Third tried to incorporate advantages of both. They have included:
No annual fee
Access to both your checking account and your line of credit
Security features to protect your checking account by ensuring that non-PIN transactions remain separate
Free Cell Phone Protection if you pay your wireless phone bill each month with the credit card
The credit card also earns Real Life Rewards which allows you to earn two points for every dollar spent on the credit card in gas, grocery, and discount store purchases, and one point for every dollar spent on all other credit purchases.
Introducing the DUO Card in Face of NFC Technology
This may seem like an interesting time to start combining plastics when we are on the verge of something a whole lot simpler. NFC technology, already available on some phones and coming soon to others, will allow customers to consolidate and use all their cards on one device.
That means your debit cards, credit cards, gift cards and all sorts of other coupons and discount cards.
With that kind of holding capacity, customers might even open accounts across other banks because the phone can keep track of everything for you, including bill pay, fees and budgeting. Fifth Third Bank must be relying on a niche of people who want this little modicum of convenience, and are not ready for full-blown acceptance of the implications of NFC.
Indeed Stephanie Honan, Public Relations Manager at Fifth Third Bank, explained in a phone call, "The bank has had the capability to create this card for quite some time, so this card was largely created based on customer response and a desire for such capabilities."
Will you use the Duo Card, or do you wish your bank had one? Tell us in the comments section below.
Related: Fifth Third Processing to Pilot Mobile Check Deposit Services in Midwest
Ask a Question