Bank of America Denies Merger Talks, Gets $5B From Buffett
The nation's biggest bank is pulling out of its recent slump by fighting chatter of a merger with funding from one of the greatest investors.
Bank of America (NYSE: BAC) dismissed rumors of a possible merger with JPMorgan Chase (NYSE: JPM) and followed it up by announcing a $5 billion investment from Berkshire Hathaway.
In exchange for $5 billion, Berkshire Hathaway (NYSE: BRK.A) will receive 50,000 shares of preferred Bank of America stock – that carries a 6 percent annual dividend – and warrants to purchase Bank of America common stock at roughly $7.14 per share.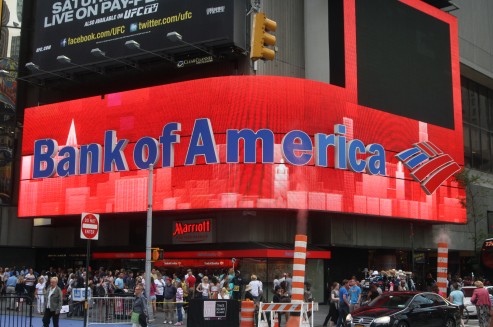 "I remain confident that we have the capital and liquidity we need to run our business," said BofA CEO Brian Moynihan in a press release. "At the same time, I also recognize that a large investment by Warren Buffett is strong endorsement in our vision and our strategy."
Warren Buffett, well-known billionaire investor and CEO of Berkshire Hathaway, said the bank is a "strong, well-led company" with a impressive profit generators.
Bank of America, JPMorgan Chase Deny Rumors
The news of the investment helped curtail noise that challenged BofA's capital foundation and liquidity. Earlier in the week, online rumors spread the possibility of a merger between Bank of America and JPMorgan Chase, the two largest banks in the U.S. by assets. Reports also said the bank needed to raise $200 billion to meet new regulator capital requirements.
In a company-wide memo to employees, Bank of America denounced the speculative chatter and worries over capital, calling it "baseless" and said that it didn't "make practical sense", according to Bloomberg.
"At the end of the second quarter of 2011, ( Bank of America) had $218 billion in total capital, which almost twice as much as is needed for an adequately capitalized institution under current standards, and more than enough capital to run our business," the memo stated.
Bank of America's stock price has been taking a hit due to the surge of negative news coming from the company.
Over the past couple of weeks, the bank said it would layoff 3,500 employees, sell its Canadian credit card business to TD Bank, and exit the credit business business in the U.K. and Ireland.
On August 1, the bank's share price closed at $9.81. On August 23, the share price closed at $6.30.
After the issuing the memo and the news of Berkshire Hathaway's $5 billion investment, Bank of America's share price jumped to as much at $8.77 in the early minutes of trading on Thursday.
Ask a Question