Discover Mobile App Updated With Mobile Cash Back Redemption
Discover cardmembers can now redeem their cash back directly through the Discover Mobile app on their smartphones.
Discover (NYSE: DFS) recently released an update to its mobile applications with a new feature that allows customers to redeem their cash back earned from their Discover cards.
Cardmembers with the Discover Mobile app on iPhone, Android, and BlackBerry devices will find a new interface option called "Redeem My Rewards". Through the app, the Cashback Bonus can be redeemed for a statement credit, a direct deposit into a bank account, or eCertificates.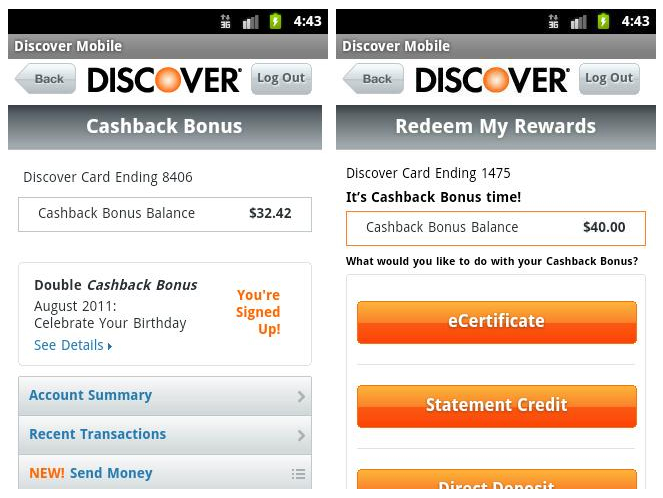 An eCertificate is the equivalent of an electronic gift code that can be used to make purchases at Discover's participating brand partners, including Banana Republic, Gap, JCPenney, and Sephora.
When ordering an eCertificate with the cash back balance, the code is available right after the order. The eCertificate can be used to make purchases online or at a retailer's store location.
Currently, redemption of rewards mostly involve logging into one's accounts online. A majority of mobile banking apps only allow customers to view the amount of rewards points or cash back they've accumulated; they'd have to sign in via a mobile browser to redeem rewards on-the-go.
But, as more consumers rely on mobile banking due to rise in smartphone usage, banks and financial companies strive to release a more comprehensive banking experience at the user's fingertips.
Discover is not the first of card issuing companies to introduce its rewards program in its mobile apps.
Last week, Citi launched its Citi ThankYou® Rewards app in collaboration with Best Buy. The app allows cardmembers to scan items at the store to see how many points it'll cost to redeem them. Then, they can either pick it up in-store or have it shipped to their homes. Furthermore, cardmembers can shop the rewards catalog and order it for delivery.
Ask a Question