Tablets Heavily Impact Businesses and Industries
For those of you who thought the iPad was just a toy, you're only partially right. According to new research from Gartner, 33 percent of business information will be consumed via tablet by 2013.
Although the lure of Angry Birds is enough for some people to jump on the iPad bandwagon, tablets have also created an entirely new way for users to consume information. Gartner, an Information Technology research group, believes that these devices will change businesses intelligence, especially with interactive apps and bigger screens than their little smartphone brothers.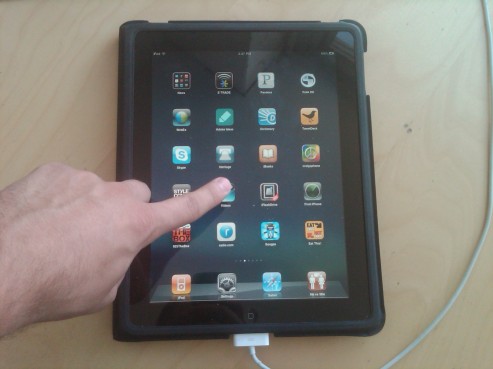 At this year's Gartner Symposium/ITxpo Africa in Cape Town, Andreas Bitterer, research vice president at Gartner explained how tablets fill this role.
He defined business intelligence as mainly computer-based techniques used to analyze business data, such as compartmentalizing sales revenue and sorting through costs and income.
With the lengthy strides that tablets have already taken, Bitterer thinks there is even more in the future, as tablets change from nice-to-have to essential-for-business devices. "We are only scratching the surface," he said.
Check out: Why Chase Continues to Update iPad App
He also pointed to the fact that they are becoming ubiquitous due to the variety of tablets on the market. This is supported by an unrelated study from market research firm In-Stat, which predicts that by 2017 approximately 680,000 tablets will be shipped per day, equating to 250 million tablets for the year.
The iPad of the Future
The shift we will see can be likened to when BlackBerry changed the way people emailed. However, due to its small screen (and very slow connection) it was unable to command business information usage. With the advent of the tablet, we can now consume information more efficiently.
He included that the benefits of on the spot business intelligence increases the speed of decision making and assists in uninterrupted workflow.
Tablets also have the ability to make huge improvements to entire industries. Recently, United Airlines decided to give iPads to the 11,000 pilots who fly United and Continental Airlines planes. The devices will replace the entire 38 pound flight manual, saving the airline 16 million sheets of paper and 326,000 gallons of fuel per year.
Looking ahead, Gartner forecast that this would open new doors to improving workflow, running algorithms and providing image recognition just to name a few. The hardware is likely to improve as well and tablets will probably eventually respond to voice commands.
Related: Citibank Launches Native iPad App
Related: Apple iPad 2 Announced: How to Upgrade Your Old Apple iPad
Ask a Question