Fortumo, Erply Help Fuel Expansion of Estonia's Mobile Payments Industry
When one thinks of Estonia, mobile payments may not be the first thing that comes to mind. Yet, the nation is one of many pioneers in the mobile payments market in Central Europe, and its influence is now shifting overseas to the U.S.
According to a 2009 report on mobile payments released by international accounting firm KPMG, Estonia's mobile payments market is the most advanced of any country in the Central and Eastern European region, with more than 80 percent of banking customers in the region having access to mobile payment platforms through the country's three major banks: Swedbank, Hansbank and, SEB and Nordea.
Estonia Proves It Is Tech-Savvy
For Estonia, a former satellite state of the Soviet Union, technological innovation isn't a new thing. Internet phone company Skype, which is currently in talks with Microsoft to be purchased for $8.5 billion, started as a small company back in Estonia according to the Christian Science Monitor, though the company says on its website that it was formed in Luxembourg back in 2003.
Estonia also appears to be home to a number of mobile payments start ups that have recently taken the spotlight. One of the country's mobile payments start-ups, Fortumo, recently announced a partnership with direct mobile billing carrier in mid-August under which Payfone will develop the direct billing option for Fortumo's in-app purchasing platform.
Through the pairing Fortumo's clients, primarily game and app developers, will now have the ability to receive secure mobile payments in real-time from any mobile device, including tablets, smartphones and Wi-Fi. And, in true direct billing form, those payments will simply get added to a customers monthly cellular phone bill.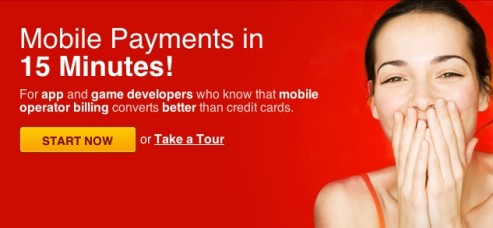 "We are excited to work with Payfone because of their deep integration with mobile operators' billing systems," said Rain Rannu, co-founder of Fortumo. "This in turn will allow us to continue to provide the highest converting in-app purchasing with more payment options for our clients," said Rain Rannu, who co-founded Fortumo back in 2007.
Estonia Toys with Mobile Payments as Early as the 90s
A research report published by Rannu before he began Fortumo showed that Estonia first tried its hand at mobile payments back in 1999, when a special Coca-Cola vending machine was put in the lobby of Estonian Mobile Telephone (a subsidiary of Estonian Telekom and the largest mobile communications provider in the country). Banks later began integrating mobile payments services in the country in 2001.
More recently, retail software management company called Erply released a credit card reader for iOS devices to rival similar technologies available through Square. The credit card reader costs $50 while the service charges a 1.9 percent transaction fee to rival Square's 2.75 percent fee (to Square's credit, its card reader is free).
Erply, which was founded in Tallinn, Estonia and currently has offices in New York and London, raised $2 million in funding last year from a number of investors that included Redpoint and Index Ventures and the Accelerator Group to finance its growth. The company was also named one of the Wall Street Journal Europe's star-ups to watch in 2010.
Where Estonia's mobile payments industry goes from here is still yet to be known, though with the country counting more mobile phone contracts than residents within its borders—121 contracts for every 100 residents to be exact—it's a country the technology world should definitely keep a close eye on.
Read more: American Express and Payfone Partner to Deliver New Mobile Payments Platform
Ask a Question